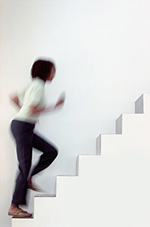 Several months ago I read about a challenge that involved running stairs.  I don't recall the exact article, but I believe the author's challenge was for readers to be able to run 50 flights of stairs.  As it was fall and getting cool outside, a new, indoor cardio workout seemed like a great idea.
Now, to start with the honest truth.  The first time I tried running stairs, I realized I needed to work on my endurance.  I ran three sets of ten flights of stairs and declared myself finished.  While I was more than halfway to the goal, I was disappointed that I didn't do better.
To work on meeting this goal, I dedicated one day per week to stair running.  To work on increasing the number of flights I ran, the next week I ran with twelve flights per set.  However, after three sets, it was enough of a workout.  Having run 36 flights again during the third week, I decided to try a new strategy in my fourth week.
My new program was to run the flights in descending sized sets.  Also, I decided that after two weeks at the same total number, it was time to increase my workout.  Starting with a set of twelve flights, I followed that with sets of eleven, ten, and nine, which gave me a grand total of 42 flights.  Feeling comfortable with this growth, I ran this amount the next week also.
It seemed that two weeks was enough time to gain comfort with the new amount, so on the sixth week, I increased my total number of flights by adding a set of eight flights to the end of my workout.  I had reached the initial goal of 50 flights of stairs!
After my typical two weeks at this stage, I wondered how I could change the workout next.  Rather than increasing my daily amount, I decided to increase the number of stair running workouts per week.  Rather than use my stairclimber for a second day of cardio exercise, I began to run 50 flights of stairs two times each week.
Currently, I have increased one day of stair running to 57 flights and left the other day at 50 flights.  Although I could continue to increase amounts for either or both days, these seem to be perfect workouts for me.  Not only do they provide me with good cardio workouts, they are simple and inexpensive.  A good pair of sneakers and a set of stairs are all that are required.  In fact on a recent stay in a hotel, when workout equipment was unavailable, I simply ran the stairs.  No need to miss a workout that day.  No need to take a growth hormone for these results either!