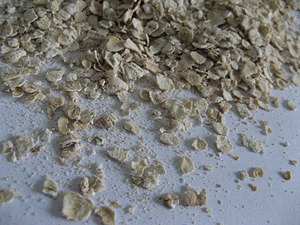 There are four very good reasons why a runner (or anyone else for that matter) should like oatmeal: it's cheap, it's convenient, it's healthy, and it's tasty. It's tough for a particular food to meet all of these conditions, but oatmeal passes the test with flying colors.
Oatmeal is probably one of the cheapest breakfast foods that someone could be willing to eat day after day, like a bowl of cereal. It's great for those of us who are budget-bound. On the flip-side, oatmeal leaves an open door for toppings, which can include just about any ingredient. Make it sweet or savory; it's your choice.
You know that whole grains are good for you; that's what oatmeal gives you. The top (and perhaps only) ingredient on a package of oatmeal should be plain rolled oats. The soluble fiber in oatmeal is said to reduce cholesterol levels (and the risk for heart disease); it also keeps us feeling full, helping us control hunger pangs. Oatmeal has a low glycemic index, which is perfect to have a couple hours before a sustained effort.
Regarding taste, and perhaps even regarding texture, some people claim that they just don't like oatmeal. What they're really saying is that they didn't like the type of oatmeal that they once tried. Oatmeal is extremely versatile, and it's unlikely that one can disagree with every possible kind, unless of course you have a gluten allergy. (In that case, you're just out of luck on the oatmeal front). To find a bowl of oatmeal that suits you, experiment with different amounts of water or milk, quick-oats (which allow you to have a hot breakfast in under a minute) or regular oats, and a variety of toppings. Eventually, you'll find your favorite bowl.
A popular way to sweeten a bowl of oatmeal is to add a spoonful of brown sugar, but why not add whole to whole? Start with plain, whole oats. (The flavored kinds tend to be loaded with plain sugars). Instead of adding simple sugars, pour in some berries and top it with a handful of nuts for some extra crunch, healthy fat, and Vitamin E. Other quick and tasty additions include a spoonful of peanut butter or a tablespoon of dark chocolate chips. Some athletes like to up their protein intake by adding whey to the oatmeal mix. Want to make a super nutrient-packed bowl of oats? Substitute milk with a low-fat or nonfat yogurt to get more protein, calcium, and potassium, cup for cup. Top with strawberries for some Vitamin C that will boost your calcium absorption to get a truly healthful start to your active day.