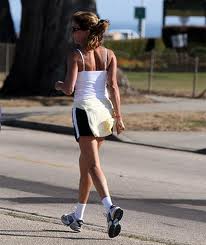 With the new year comes new trends in exercise wear. The yearly trends in fitness wear also take a tip from fashion trends as far as what colors are "in." In addition, there are new styles that are available that are functional as well as fashionable. When you wear clothes to exercise in that also look good on you, you gain confidence. This may help you to get a better workout, and workout more often.
The colors that are hot for 2013 are black and white, sometimes with a little pop of color. The neon pinks and greens are out. Many people feel that black is slimming, but it takes a person with a lot confidence in their body to wear head to toe white. If you are working with a trainer, white is actually a good choice. As in ballet classes for young children, it is suggested that they wear white or light color tights to class. This allows the instructor to better see their muscles as they do movements; the same applies to a personal trainer.
A couple of new choices in exercise wear are the workout skort and the jumpsuit. The skort is practical, as it is very comfortable for your workout, but it can also serve a dual purpose in that you can run errands before or after your workout and still look stylish. The workout jumpsuit is also practical. Most often they are sleeveless, so in the colder months you will need to wear something to cover your arms, then continue to wear the jumpsuit through the warmer months as well. It is all year workout wear in one piece.
If you find the simple trend of black and white dull, remember that you can add a pop of color to your exercise wear with accessories. Exchange the neon headbands, sneakers, gym bag, socks, and wrist bands with jewel tones, such as red, blue, emerald green, purple, or topaz yellow.