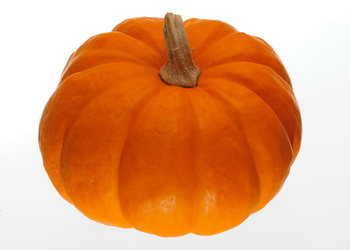 Fall is a great season for exercising outdoors. It's still "t-shirt" weather, for the most part, and the trees in New England couldn't be any more stunning. Fall also brings some seasonal snacks that should be on every athlete's shelf (or grocery list). Here are a few to consider:
Pumpkins. If the only form of pumpkin you ever see is one with a scary face cut into it and a candle inside, it's time to update your grocery list. A serving of pumpkin is extremely low-calorie, but packed with fiber. Like carrots, pumpkin contains carotenoids, a cancer-preventing compound. An easy way to slip some pumpkin into your diet is in the form of a puree. Mix it into your favorite soup or stir it into a bowl of oatmeal. And before you cook them they look pretty on your counter underneath kitchen lights.
Cranberries. Fresh and dried cranberries contain antioxidants to keep you healthy. Be careful: cranberry drinks contain fewer antioxidants and tend to compensate for the natural bitter taste of cranberries with heaps of sugar; these are less helpful.
Cinnamon.  Okay, you probably have this one in your cabinet already, but let's hope that it's getting some use. Cinnamon is known for its blood sugar stabilizing benefits. It also naturally brings out the sweetness in other foods, so you can cut back a bit on the sugar added to baked goods or hot beverages. Add a pinch of cinnamon instead. It's healthier and makes the kitchen smell extraordinary.
Sweet potatoes. Step aside bananas, sweet potatoes have got athletes covered for their potassium needs (and Vitamin A for that matter). Sweet potatoes are a tasty, nutritious, and filling substitute for the more Plain Jane carbohydrates: white rice, white bread, need I say more?  This vegetable is also quite versatile. Make a sweet potato mash as a dinner side or bake some thin slices coated lightly with oil for a filling snack. Bonus combination: sprinkle the dish with cinnamon.
Fennel. Fennel is a nutritious vegetable closely related to parsley and carrots. Its bulb, stalk, leaves and seeds are all edible. The seeds are known for their vaguely minty flavor, but the bulb is quite crunchy and mildly sweet. It is also a good source of vitamin C. Perhaps the most interesting characteristic of fennel are its phytonutrient called anethole. Anethole has been shown to reduce inflammation in animal studies. Thus, fennel would make a great addition to a recovery meal.
You can mostly likely find all of these foods even when fall has passed; if you find a recipe that you like, don't hesitate to bring it back. These fall foods stay healthful year-round (they're just cheaper/more accessible this time of year)!