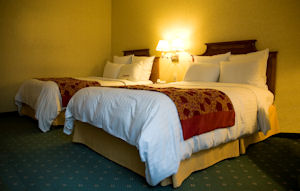 Traveling for vacation, family visits, or work is a part of life for most of us.  As wonderful as it is to get away from to normal day-to-day routines and responsibilities that we have in place during the rest of our lives, traveling can present some difficulties in terms of maintaining our workout and nutrition schedules.  The great news is maintaining a workout routine is not as difficult as it might seem, if you adequately prepare before you leave home.  Here are a few considerations to keep in mind the next time that you travel, regardless if it is for business or pleasure, to make certain that you maintain your fitness levels and remain on track to reach your health and fitness goals.
If you are going to be staying in a hotel while traveling, check with hotels ahead of time to see if you can book a room at one that has a fitness center.  Many hotels these days have nice exercise rooms with basic cardio and weight training equipment, and the best part is most of them are open 24 hours.  So whether you arrive early or late, have jet lag, or need to adjust to different time zones, you will have access to some training equipment.  You also won't have to contend with weather conditions outside, which is an added bonus.
Investing in a set of resistance bands or tubes is a very inexpensive and easily transportable way to exercise in your hotel room or outside.  Resistance bands come in varying resistance levels from very light to very heavy to fit anyone's fitness level.  Most available these days have handles that attach each at end, as well as attachments that can be used to secure the bands to a door for an even greater array of exercises that you can perform.  Almost any free weight exercise that you can imagine can be performed using resistance bands.
Planning out a simple circuit type routine that you can perform each day in your hotel room is another simple way to get in your daily exercise.  Choose 8 to 10 body weight exercises that you can perform back-to-back, and then take a short 30 second to one minute rest before starting the circuit over again.  Perform the circuit for a total of 3 times.  A sample circuit is 15 jumping jacks, 10 squats, 10 lunges, 12 push-ups, 5 burpees, run in place for 30 seconds, hold plank for 15 seconds, 25 crunches and 15 lying leg lifts.  Always warm-up prior to starting your circuit training workout by running in place for 5 minutes, walking up the stairs at the hotel several times or taking a short walk outside.
The easiest way to exercise while traveling is to go outside and do a 30 minute jog or walk.  Use this as an opportunity to explore the local scene around the area that you have traveled to and to get some fresh air in between those long work days, if you are there for business.  I personally take my bike along with me when I travel if at all possible, and you will be amazed at how much more you can discover about town while on your bike.
So, when you go about planning your next trip, make certain to plan your workouts for those travel days as well.  Our goal is to make certain that we are exercising 30 minutes a day, 5 days a week at a minimum.  Even if calories don't count while your vacationing, do not use vacation as an excuse to blow it when comes to physical activity.  By staying on top of your workouts, you can stay on the fast track to reaching those fitness goals and limit the damage those "non-counting" calories can cause!