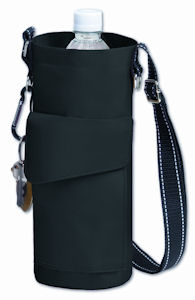 The Andres Institute of Art  is a small, privately-owned mountain with trails that are filled with sculptures. It is open to the public to takes short hikes and enjoy the art. I visited this sculpture park with a group of family friends on hot day last week, and we were grateful to have a few water bottles among us; however, none of us wanted to carry the bottles while they weren't being used, and no one had bothered bringing a backpack.
The younger kids started playing the "you touched it last" game with one of the bottles, so I finally ended up carrying it, despite not having taken a sip. Later, I found myself fumbling between the bottle and my camera, awkwardly holding the bottle between legs (to prevent the condensation on the bottle from picking dirt up off the ground), as I snapped shots of the sculptures. I thought to myself, "If only there was a bag that was made specifically to carry a water bottle and just a few other essential items."
You guessed it, there is! It's called the Go Caddy, produced by BVT Products. The Go Caddy is a unique water bottle holder that can hold up to a 1.5 liter bottle, and it also includes side pouches for small necessities, such as one's wallet, glasses, camera, or cell phone. Its 54″ strap is easily adjusted, and can slip onto one shoulder or be worn cross-body for longer walks. There is a small metal clip on the side to hold keys, and it also comes with a water bottle cooler sleeve.
The Go Caddy is perfect for a trip to the gym, when you have just too much to handle for two hands, but not enough to merit the use of a larger gym bag. I used to use a light-weight drawstring bag, but the bottle would always tip over inside, and leak onto the other contents and through the bag. If I kept the bottle separate, I would have to throw it in the back of the car when driving to prevent it from rolling around the front, only to have to dig it up again later. The Go Caddy solves this problem, keeping all of my essentials, including my water bottle, by my side. I can also see it being useful on a cruise or at a sporting event.
Is it the most stylish tote bag in the world? Well, it sure isn't a Louis Vuitton purse; however, if you lead an active lifestyle, you probably don't care. It gets the job done without all the bells and whistles, and those aren't necessary anyway. The bag is made of durable materials (a microfiber body and polypropylene strap), and seems like it can last a lifetime. At $19.99 (plus $4.95 S&H), it does seem a bit expensive for an "advanced" water bottle carrier, but if you're someone who fumbles around with a water bottle quite frequently, it's worth it.
Editor's Note: The author received a complimentary Go Caddy to review for this article.