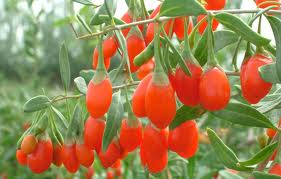 Did you see the Zits comic this past Sunday? Connie (the mother) calls out, "Dessert time!" Walt (the father) responds with a smile until he is handed his "dessert," which Connie explains is a "spinach-wheatgrass-flaxseed-gojiberry-spirulina-oatmeal-kale-soy smoothie." I guess Jerry Scott and Jim Borgman couldn't resist poking fun at the growing number of "super foods" that are gaining popularity among the health-conscientious dieters. Between MFT and Health Eagle, one of our sister sites, I figured we would have the list covered. Smoothies, assuredly, have received their fair share of attention on both sites; however, I was surprised to find out that goji berries have not yet graced out front page.
What are goji berries? Goji berries are an orange-red type of berry that is native to China. They have been used in Asian diets from centuries, both only recently gained attention in America due to their possible health benefits. Goji berries have a mild, tangy taste. The berries can be eaten as raw, cooked, or dried. They can also be juiced or used to make teas. The most commonly available form of the berries in America is dried. They have the same texture as and look very similar to dried cranberries or raisins.
What are the health benefits? Like the majority of other super foods that have been rising to fame in recent years, goji berries are known for being filled with antioxidants. Antioxidants are believed to have a role in boosting the immune system and lowering cholesterol. They may play a part in preventing cancer, heart disease, and perhaps even the general aging process.
Where can one find them? Unfortunately, goji berries aren't widely available, though their popularity is increasing. You have a good change of finding them at a health food stores; Trader Joe's happens to sell a goji berry trail mix. If you can't find them, ask! The berries will probably find their way to your local store in the near future. Goji berries are also known as wolfberries, a fact that may help you in your search.
How might you eat them? The goji berry trail mix from Trader Joe's is entertaining enough for the taste buds to be eaten on its own. If you buy a plain bag of goji berries, you can easily substitute them where you might normally add raisins (oatmeal, cereal, your favorite oatmeal raisin cookie recipe, etc.) or include them in trail mix made from scratch. Dipped in dark chocolate they make a decadent, and (arguably) still quite healthy, treat.