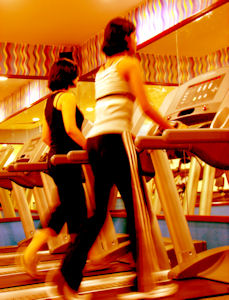 Why is it that women receive the short end of the stick in the aging process? Is it fair that besides losing our precious estrogen, we have to gain something that we don't want? Okay my bitterness is over; I'm ready to take on my waistline. Whining doesn't work. It makes us grouchy, mean spirited, and unattractive.
While reading about weight gain and menopause, it appears the stage is set to undermine our "middle" before the process actually begins. During perimenopause, we tend to gain weight around the midsection because our metabolism is changing; it is harder to work off our caloric intake as we age. Throughout this phase, women should become proactive and start a routine to stave off their impending weight gain.
Unfortunately, sometimes our good intentions don't always coincide with good timing. There are many factors that determine why our "middle" expands. Did our mother and grandmothers have large girths? Are we habitual couch potatoes, or are we consuming more processed and fast foods? You can stop the middle age spread quite easily by eating less and becoming more active. Easier said than done right?
Recent studies from the National Health Research Institutes in Taiwan show by merely being active with some form of exercise for 15 minutes daily or 90 minutes a week can prolong your life expectancy by three years. I also discovered by simply cutting 200 calories from our daily menu can mean the difference of a few extra pounds. Less fat, more fresh fruits and vegetables, and whole grains will be an excellent start to any healthy eating plan.
When I started my journey at the age of 56, I was on a destructive path towards heart disease and Type 2 diabetes, which was discovered from a routine blood test by my doctor. I decided to work out at home with Wii Fit, a walking video, and a weighted hula-hoop. These were my choices for living a non-sedentary life. I worked out every 12 hours, before and after work, for approximately 1-hour sessions each. I began my healthy eating choices by adding more fiber (vegetables and fruit), whole grains, lean protein, and reducing my sodium and fat intake.
I never even considered age or menopause as a deterrent. I was more focused on getting healthy and fit, and being older was never an obstacle for me. In my mind I was still that young schoolgirl who unfortunately was not going to enjoy her next school reunion if she didn't take action to overcome her health issues. I worked slowly and steadily to win my race, and I gained so much more on my journey. Fortunately for me it was not the large waistline that I was doomed to inherit. Shouldn't we be enjoying our old"er" age by acting and feeling younger? We should all live by a quote of Douglas MacArthur, "Age wrinkles the body, quitting wrinkles the soul".