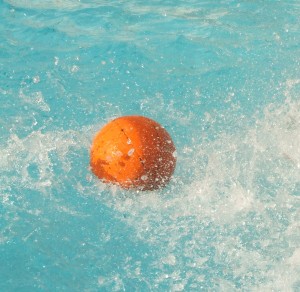 Pool water provides a naturally resistant force that you can take advantage of while exercising, especially in the summer. It can help you relax, stay cool, and get a workout at the same time. You can use a pool to target every area you would normally work on strengthening, and the water keeps unnecessary pressure off of joints.
Arms (1) – Use a flotation device that you can hold between your legs. Perform normal swimming strokes (freestyle, breaststroke, butterfly, etc.) without the use of your legs. This will give your arms quite the workout. By switching strokes, you can target different muscles and get full range of motion.
Arms (2) – Use any small or medium-sized inflated toy (perhaps a ball). Extend your arms out in front of you while holding the float. Bring your shoulders level with the surface of the water (perhaps by bending your knees), then submerge the object and slowly trace a figure eight pattern under the water, keeping your arms extended. Focus on maintaining balance.
Legs – Use a kick-board to support the weight of the front of your body, and perform the normal swim strokes this time using only legs.
Core – Have you ever tried to do leg lifts from a hanging position? Without a strong base, these are extremely difficult for beginners. Performing the same exercises in the water will allow you to go through the motions and build up your core until you can do them out of the water. Start with your back against the side of the pool, and arms along the edge. Extend your legs straight ahead, in a pike. Then, slowly swing your legs to the left, back to the center, to the right, and back again. Repeat this for as many repetitions as you can, and try to increase the number each time!
Lower back – Some people call this the "otter roll." Hug a beach ball to your chest and float on your back, with your legs extended and feet together. Roll toward the right, in an attempt to roll yourself over, ending with the ball underneath. (Take a breath before you head goes under water). If successful, continue the roll until you come full circle, then try the other direction.