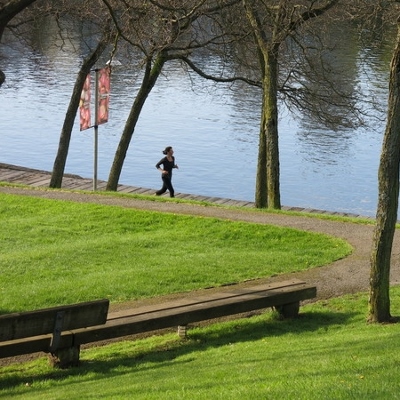 Can you imagine training and running every day with picture perfect views around you? Do you think that the landscape has an impact on your willingness to go outdoors and move? I was once in Savannah for a short visit and I was able to run a few mornings while I was there. Even though it was hazy, hot and humid weather, the fact that it was a picturesque setting and different from what I would typically view from my familiar neighborhood, definitely gave me an advantage and improved my mood.  I must say my surroundings were a great motivation for the three-mile jaunts, and I was ecstatic for a change. What could have been more appealing that seeing Spanish moss flowing from beautiful trees, hearing the local birds, or viewing magnificent architecture and historic sights. I once signed up for a race in San Francisco because I was there for a week attending a family wedding. Running with the Golden Gate Bridge in the background was an incentive that even resulted in a faster time than I had anticipated. Every year I participate in a contest where the course is right next to the Hudson River with the New York skyline in my sights. If I have an opportunity to run where I never have before, I will take advantage, especially if I know there will be panoramic sights and scenes.
Recently I travelled to Barcelona, Spain for a pleasure trip that lasted four days. I did not run, but rather walked at a fast pace throughout this magical foreign city with palm trees, spiraling cathedrals, as well as a vast body of water known as the Mediterranean. On my outings, which were three to be exact, I encountered a great number of runners and imagined that if I lived in this city I don't think I would ever tire of the views and that would give me the motivation to want to run on a regular basis. In my hilly neighborhood, I've had run-ins with barking dogs, black bears, uneven and hazardous roads that are just part of the environment. The foliage is stunning in the fall, but there is really not much else as far as scenery goes.
If you need a catalyst to help, just chose a place where you know it would be a pleasure to work out. My friend runs in her local park that has a lake, another jogs at a nearby school track because of its rural setting which is surrounded by mountains. Search for walking or running clubs in your community, you'd be surprised how many there are that you were never aware of. These clubs typically chose beautiful and scenic areas to move about. Now is the great season with the end of a beautiful summer, and fall already here to get outdoors and make the most of walking, jogging and running. The temperatures are delightful and perfect for those of us who like to amble in any form. So if you are interested in joining me in my neighborhood, I would advise you to "walk softly and carry a big stick" because those bears may be just lurking around the corner!