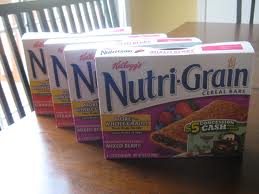 Everyone wants to know – what's the best bar out there? It's a frequently asked question that's truly impossible to answer. The most reasonable answer: it depends. I promise, I'm not trying to take the easy way out by saying that it depends on your preferences (though it does); the answer actually depends more-so on a detail that isn't always considered. Knowing when you're eating the bar, with respect to when you work out, can greatly inform your decision on which kind of bar to eat.
If I don't eat something before going on my Sunday morning run, I start to feel dizzy by the end; however, I rarely get up early enough to fit in a solid breakfast beforehand. I have to choose something that I feel comfortable eating on my way out to meet my runner buddies. Many people would turn to gels in this situation, but I actually like a snack with a bit more substance and a bit less intense flavor. I like to eat a "cereal bar" (think Nutri-grain), because it has good texture, but is comprised primarily of simple sugars and will be easy to digest, because it is also relatively low in fiber. Unfortunately, the ingredient that typically gives the bar this characteristic is high fructose corn syrup.
If you're looking for a fancier formula for your pre-workout snack, look for bars with maltodextrin. This lab-formulated carbohydrate is supposedly absorbed faster than other carbohydrates. It's even easier on your stomach than glucose. Bars marked with the key word "energy" are typically good for consumption before or even during a workout.
After a workout, a bar could serve a number of different functions. Instead of one full of carbohydrates for energy, you'll want to find one with a blend of both carbohydrates (to replenish your glycogen stores) and proteins (to help your muscles build and recover). A 4:1 ratio of carbohydrates to protein is commonly recommended. If you participated in a lifting session, you might look to consume some additional protein.
Outside the macro-nutrients, however, they are some other aspects to consider for a post-workout snack. If you like to use bars to get fiber into your diet, post-workout is probably the "safest" time to consume them. Intense exercise can be energizing, but it can also make one more susceptible to illness if one doesn't keep a strong immune system. Post-workout, look for a bar with antioxidants, such as selenium and vitamin E, which are essential for recovery.
Naturally, there are many bars that satisfy the conditions recommended for any given timing. Of those, which are the best? Sorry, but that's up to you.