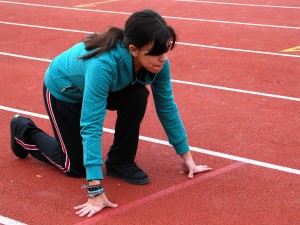 I was originally going to write an article reflecting on my last race of the year, DIII Cross Country Nationals, but realized it needed a bit of context for it to have much meaning. So here goes, 4 years in 400 or so words:
I opened up my collegiate (and overall) cross country career with a 20:01 on a flat 5k course, and ended that season at the conference meet (with a worse time). I was literally at the bottom of the 20-member team, doing it to stay in shape for track. I cheered for Regionals when it happened and, from the comfort of my dorm, watched the Varsity runners place 3rd at Division III Nationals. I didn't feel like a cross country runner, so I didn't feel like I was missing out.
However, by junior year I was getting antsy about my performance. Based on my track times, my XC times should have been much better. I no longer had the excuse of being a rookie. Sophomore and junior year passed by in a heartbeat; neither year did I make it past the conference meet, though my personal 5k record dropped about 30 seconds each season.
Finally, senior year rolls around, and it's my last chance to make something happen. At the conference meet I finally ran well enough to just barely earn a spot as MIT's 7th runner at the Regional championship. My time of 18:59 was still not much to call home about. However, at the Regional championship, something felt different. Maybe I realized that if I didn't do well, there wouldn't be another race left to run. So I trusted my training and my legs and went out with the leaders in 5:35 (first mile). By the end of the race, I had lost ground, but it was enough to earn All-Region honors, 3rd among my teammates, and a spot at Nationals. My 5:55 pace for the 6k was significantly faster than any pace I had ever even run for a 5k, and it was the first time I had ever scored for my team (only top 5 runners per team score).
Nationals is the ultimate cross country race for a collegiate runner. It's where some runners gain glory and others crash and burn. My 87th place finish (out of 275) put me somewhere in between. It was well-paced and again earned me 3rd among my teammates, a satisfying finish. It is difficult for me to think that my years of running for a team are over. True, I have a couple track seasons ahead of me, but I will never step on the line with as many teammates. I made my first college friends and my best college friends on the cross country team. I wouldn't trade in those first few years of struggling even if I had the chance to do it all again; it was all part of the journey. This 4-year XC journey has come to a bittersweet end, but I know my journey as a runner is still just beginning.
(Photo courtesy of Sanja Gjenero)