One of the biggest problems we all struggle with in our fitness regimen is finding enough time to fit in our workouts.
Unless you're a professional athlete or entertainer, working out is not part of your job description, and you're probably trying to squeeze exercise in around your work, social life, and family.
This makes things like going to the gym difficult. Home gyms are only marginally better–unless you put your gym in your living room, you're going to have to break your routine to work out.
You can always go with the Herschel Walker approach and do 1,000s of pushups and situps, but again, it's tough to do so while watching over your kids, catching up on "Lost" or any of the other things that fill our lives.
Fortunately, there is a simple piece of exercise equipment that will let you squeeze a complete workout into your day. You can work out at the office, at home, or even in a hotel room while you're traveling. You can exercise while chatting with others, watching your favorite show, or watching over your kids. And best of all, it'll cost you less than $10.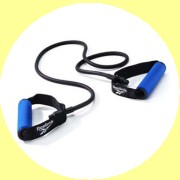 I'm talking about the exercise band. This simple device–essentially a length of surgical tubing with handles at each end–can provide a complete workout, and all you need is about a 2'x2′ space on the floor.
I keep one at home and one at the office, and I run through my workout during all of the following convenient times:
When watching television (for me, it's usually during a ballgame)
Watching the kids play
While I'm on the phone (you need a wireless headset for this)
When I need a 5 minute break from work
During "watercooler" discussions in my office
I can usually squeeze in enough reps to easily maintain my fitness level, and often I'm even sore from the effort (something I wasn't getting from my regular weightlifting routine).
If you're having trouble fitting in your workout, give it a shot. After all, even if I'm wrong, it's only $10…a lot more palatable than a $500 gym membership that you never use! Here's Kim Strother with some additional inspiration.