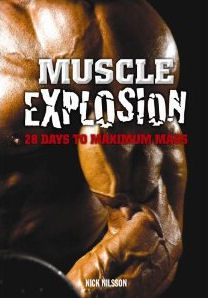 Discover some helpful fitness secrets, courtesy of Nick Nilsson, personal trainer and professional fitness writer.
It's January 1st, and what's the first thing on everybody's mind?  Getting back into the gym and getting back into shape.
Here are my top 5 tips that will absolutely ensure you stick to your New Year's Resolution to burn fat, build strength and improve your health.
1.  Have a Plan
The biggest mistake people make is just jumping right on the treadmill, not having a good, sustainable plan for progressing and improving.  Doing just about anything is better than doing nothing, but doing something aimlessly is not going to get you results and getting results is the KEY to sticking to your resolutions.  By getting on a solid program, you'll avoid the pitfalls of aimless exercise. (Try my Muscle Explosion: 28 Days to Maximum Mass plan)
2.  Get Support
You're not alone in your desire to be stronger, leaner and healthier!  By joining up with others who share your goals, you'll multiply your chances for success because you'll have an entire support system behind you, whether it's a gym partner or in an online group.
3.  Don't Try and Do It All At Once
You didn't gain all the weight in a week, so don't expect you're going to lose it in a week.   You can absolutely lose the weight faster than you gained it, but the process is (and should be) a gradual one.  By jumping in guns blazing, you'll burn yourself out before you realize the full benefits of an exercise program.
4.  Set Short-Term and Long-Term Goals
Goal setting is a HUGE part of success, and it needs to be more specific than "I want to lose weight" or "I want to build muscle."  You need to quantify your goal, e.g. "I want to lose 10 lbs of fat in 6 weeks."  By setting a clear goal like this, you'll be able to determine exactly what it's going to take to achieve it.  It's also critical to set longer-term goals that will carry you through the initial "resolution season" so that you make exercise a habit and not just a resolution.
5.  Don't Make New Year's Resolutions!
This may seem a little contrary to the title of this article but think about it this way…how many people (yourself included) make New Year's Resolutions and never stick to them?  The VAST majority of resolutions don't last longer than a few days or weeks.
Bottom line — don't make a New Year's Resolution.  Instead, make a long-term commitment to yourself and your health.  Take the previous 4 tips to heart and you'll never have to make a resolution to get BACK in shape again!
About The Author:
Nick Nilsson, "The Mad Scientist" of the fitness world, is a renowned personal trainer, body builder, and professional fitness writer who has written for Men's Fitness, Reps Magazine, Muscle & Fitness and hundreds of fitness websites all over the internet. He is recognized throughout the fitness world as an innovator and pioneer of ground-breaking methods for building muscle and strength fast. His degree in physical education covers advanced biomechanics, physiology and kinesiology.  Nick's new book, Muscle Explosion: 28 Days to Maximum Mass is now available on Amazon.com.