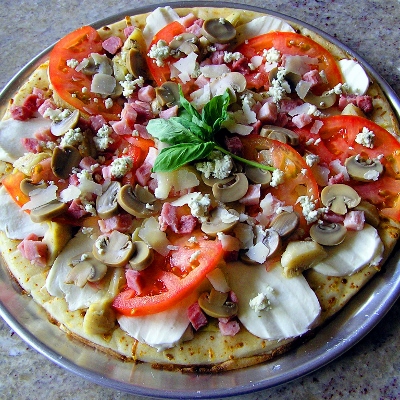 When following a low carb diet, cravings for pizza might threaten to derail your progress once and for all. Instead of giving into the cravings, you can make a low carb pizza variant that is every bit as good as the real thing. You have three crust options to consider, all of which are easy to make and super delicious. Here's how to make these awesome dough recipes.
Cauli-Crust
Cauliflower makes a great stand in for the flour found in ordinary pizza dough. When made correctly, you will end up with a thin, crisp crust to pile toppings on.
Ingredients:
3 Cups cauliflower
1/2 Cups low-fat shredded cheese
1 Tablespoon Italian spices
1 Large egg
1 Garlic clove, minced
Cook the cauliflower in a steamer until tender. Preheat the oven to 425 degrees. Cool the cauliflower for 15 minutes, and then place in a cheesecloth. Squeeze all of the water out of the cauliflower and place in a mixing bowl. Stir in the cheese, spices, egg and garlic. Spread the mixture on a baking sheet to create your pizza shape of choice. Bake in oven for 15 minutes or until the edges and bottom brown. Let cool and top with your fixins before baking just enough to melt everything together.
Almond Meal

The almond meal crust mimics the look, feel and taste of regular crust.
Ingredients:
1 Cup almond meal
1 Egg
2 Ounces cream cheese
2 Cups shredded low-fat cheese
Turn your oven up to 425 before starting the mixing process. Melt the shredded cheese in a microwave safe bowl and let cool until easy to handle. Hand mix in the cream cheese, almond meal and egg to create a dough like consistency. Roll out the dough and place on a baking sheet in the oven for 15 minutes or until browned on the bottom and edges. Add toppings and bake for another 10 minutes to create your pizza.
Cheese
The cheese crust takes the least amount of time and effort, but it can barely be considered a crust at all. That said, it excellently supports the toppings and provides the taste of pizza without the carbs. To create your crust, pour 1/2 cup of low-fat shredded cheese into a fry pan set on medium heat. Allow to melt and cook until the bottom turns brown. Add sauce, cheese and toppings, and then pop under the broiler for a minute or two. The key to enjoying this crust is waiting ten minutes for the bottom cheese to cool and harden into a product you can easily handle before eating.
Find Your Favorite Fixins
To keep carbs down as low as possible, seek out a low sugar pizza sauce. Several suitable varieties hover between two to four carbs per 1/4 cup serving. You could also make your own by blending up a couple plum tomatoes with garlic and an Italian seasoning blend. Of course, you could use cheese-based white sauces, sugar free barbecue or garlic butter as your sauce base. Don't be shy about piling on the meat, vegetables and cheese to create the pizza flavors you love to eat.