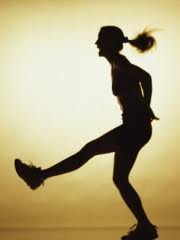 Maybe the weather outside is frightful, or maybe you just don't want to exercise outdoors or head to the gym. No matter, as there are lots of ways to get a rigorous cardio workout indoors. Working out indoors is convenient, far less embarrassing than working out in a gym or exercise class, and you can tailor your workout to your to your schedule and fitness needs. Between Blu-ray, DVD, TV, books, and Amazon's Instant Video program, which allows you to rent ($1.99) or buy ($9.99 or less) an episode online, you have 100's of cardio workout opportunities available to you 24/7. Your library may carry free DVD's, Blu-ray, and books featuring cardio workouts, too.
Here are some recommended indoor cardio workout opportunities:
The Discovery Fit & Health Channel has some great cardio workout shows. I recommend Gilad's Bodies in Motion and his Total Body Sculpt (which includes cardio bursts).
Dancing with the Stars – You don't have to be Melissa Rycroft or Tony Dovolani to get a great cardio workout while dancing. I recommend Dancing with the Stars: Cardio Dance for Weight Loss, Dancing with the Stars: Fat Burning Cardio Dance, Dancing with the Stars: Dance Off the Pounds, Dancing With the Stars – Cardio Dance, and Dancing with the Stars: Latin Cardio Dance for some sizzle in your cardio workout. Available on DVD and Amazon Instant Video.
The Biggest Loser – I absolutely love these workouts. Bob Harper and Jillian Michaels make you break out in a sweat just as if you were on the reality show. No matter what size you are, you'll feel right at home at home, you'll get a rigorous cardio workout, and you'll get in shape. I especially recommend The Biggest Loser: Cardio Max Weight Loss, The Biggest Loser: The Workout – Boot Camp, The Biggest Loser: Power Walk, and Cardio: Level 2, Cardio: Level 3, Bob Harper: Cardio Conditioning, Jillian Michaels' Ripped in 30 and Jillian Michael's Banish Fat Boost Metabolism. Available on DVD and Amazon Instant Video.
The FIRM Weight Loss System – these workout videos pack a lot of cardio punch for the buck. They're definitely for the already fit. I recommend The FIRM: Cardio Overdrive, The Firm: Time Crunch Cardio, The Firm – Cardio Inferno, The Firm: Cardio Party, The Firm: Cardio Dance Club, The Firm Fat-Burning Cardio Toning, and The Firm Cross Trainers Firm Cardio. Available on DVD.
Books – Here are my top picks:
Morning Cardio Workouts by June Kahn – lots of workouts to start your day out right!
Bring it!: The Revolutionary Fitness Plan for all Levels that Burns Fat, Builds Muscle, and Shreds Inches by Tony Horton. Horton created the P90X workout series, and his book features easy to follow instructions with photos of his unique moves and exercise combinations.
The Life Plan: How any Man Can Achieve Lasting Health, Great Sex, and a Stronger, Leaner Body. Jeffry Life is in his 70's, yet he's more fit than most people in their 20's. The Life Plan features lots of challenging cardio workouts for people of all ages.