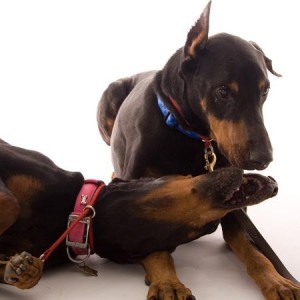 The idea of staying in good shape or losing weight is just not always a good enough reason to get a person motivated to exercise. What if you added another reason, the responsibility to keep your pets healthy and happy as well? In today's society there is no doubt that many pets are given much less attention than they should be receiving. Instead of taking their dogs on walks, some owners try to build bonds by giving the dogs extras snacks or bones. If a dog is being fed snacks, you can bet its owner is doing the same. A dog's pattern of life really can start to mirror its owner's.
The objective should be to turn this relationship into an active one. Dogs needs air and exercise every day, and we all do, too. There is one obvious way to make this happen: take your dog on a walk with you. Doing this you can keep up with your own fitness, keep your dog healthier, and continue to build your relationship with your four-legged friend. What's great about dogs is that they really get attached to rituals. If you start to take your dog on a walk at a certain time every day, your dog will learn to expect it. So if a day comes when you don't feel like moving, your dog is there to keep you on track.
But what if the dog's too slow for one's pace? One solution is to play with one's dog until during an abdominal or strength workout. One can do a workout while intermittently throwing an object for the dog to retrieve at its own pace. And what about cats? Many cats are overweight, and this can lead to diabetes, just like in humans. An overweight cat is at risk; akin to dogs, cats should get exercise. If you have a cat that will still follow a laser pointer, take full advantage of this during core workouts.
Keeping our pets moving is equally essential as keeping ourselves moving. Consider making workouts more entertaining and fruitful by adding a pet to the mix!