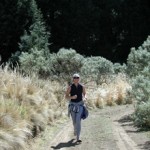 Upon receiving my bib number at the registration table before my monthly 5k race, I am usually presented with a goodie bag. The offerings range from athletic store coupons to step pedometers. At one particular contest, I was given a solid stick application, which I presumed was deodorant. At first glance I did not know what this freebie was, as being a naive runner at that time, I did not realize that becoming an amateur athlete could cause some friction.
As we age ,so does our skin. It sags and loses its elasticity; therefore, we no longer have that youthful and supple skin that we once possessed. One of the problems that we face as we grow older is chafing. Many of us deal with a 5-10 pound weight struggle as we gain and lose it in any given month of the year. We typically gain weight in our upper thigh area where chafing tends to be prominent.
There are solutions to these annoying (and sometimes painful) concerns that we face. We should look to our youth for the answers, particularly infancy. The best remedies are quite simple and easily obtained, since they are without petroleum jelly and baby powder. Some things never change in the department of healing, as those "old wives tales" cure-alls do work at times. Who would have thought that the old saying, what goes around comes around, would be fitting when referring to chafing?
Some tips to prevent chafing to consider:
Wear smooth fabrics when exercising, with small seams – I wear bicycle spandex shorts.
Use petroleum jelly or an athletic gel stick before your activity – Be proactive to prevent chafing.
Apply baby powder before, during, and after you day begins – Use the ones with cornstarch.
Fortunately, with applications and wearing the correct clothing, these pesky symptoms will be reduced and not last. Do be aware of blisters and severe redness, and always consult your physician if these symptoms are persistent and do not disappear in a short period of time. On a personal note, if you are partaking in outdoor activities such as running, swimming, or volleyball, please wear a sunscreen to protect your skin. Being a malignant melanoma survivor (19 years now) I urge everyone to please be mindful; it's the only skin that you have!