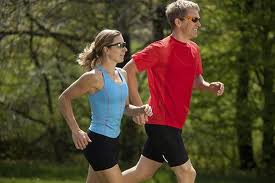 I have a confession to make: I've gotten a little lazy. I used to live at the gym and workout religiously. And then life got in the way. I started going a little less, and a little less. These days I am happy if I make it a few days a month. And my running? My 25 miles a week? Well, after pregnancy and having my son, I never really got up to that level again. And then after I broke my foot? I have had way too many excuses.
But this week the weather has been beautiful. I have found myself looking at runners not for their fine physique, but because I would also very much like to be hitting the pavement.
Where to begin? It has been a good six months since I have run. I am nervous to just tie my shoes. Will my foot hurt? Will I be able to make it a kilometer? Will I be able to make it 5 kilometers? Is running just like riding a bike?
In the end I have decided to start where I did over seven years ago, with the Couch to 5K program. Back then, the program was part of a great website called coolrunnings. Sadly, that website was bought out, and now it doesn't have the same vibe as it used to, but the Couch to 5K program is still a great one.
I had great success with the C25K program before, so I am going to give it a try again. If anyone else is running it right now or has any tips, please let me know. We can cheer each other on together.
The C25K program can be found in various forms around the Internet, but I will be following the time one since my 5K track has no markers. I will jog for a minute and walk for a minute and a half this week. I think it will be a little strange alternating between walking and running again, but hopefully it will help me be less afraid of running again.
I am putting together a music playlist because music has always been important for my runs. I want to pick songs that match the running/walking sections to motivate me. It might be tricky for this first part, but I think by week five, when I will be running for 5 minutes it might be easier.
I will keep you updated as to how my Couch to 5K adventure part II goes. And I hope some of you out there will join me!