Winter training season is now in session. According to the National Collegiate Athletic Association (NCAA) my crew coach is not allowed to hold organized team practices. She is not supposed to be at practices and "coach" us over the winter break. However, as athletes, the team realizes that we need to continue to stay in shape–after all, we just worked for four months to get to the point that we are at now.
Of course, our coach can send us suggestions; it's just up to us to organize our own practices. One tool that my coach uses is MapMyRun.com. All you have to do is sign up for a free account, and with this account, you can plot your running routes all over the world. My coach uses the website to suggest different running routes to us for us to do at our practices. With an account, you can create your own runs, save the routes, and more. You can look at other people's runs and see what paths others have discovered!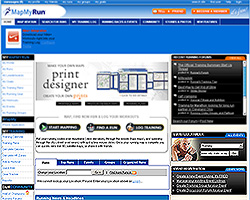 MapMyRun.com will not spam your inbox or create any problems. It is a great free tool that allows you to measure how far you ran and see the roads around the area where you ran.  It also has great tools that you can use to your advantage such as your very own training log, photos, races and events, and more. You can create training plans, calculate calories, create training goals, devise specific workouts, and use other athletic tools.
Even though my coach cannot coach the team directly, she can suggest running routes for us. Rather than being uncertain of where to go or how long a loop is, the team now will have a goal in mind. We also won't have to spend time trying to pick somewhere to run.