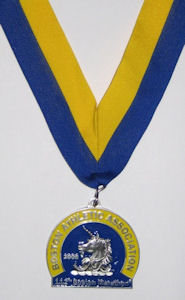 Each year, tens of thousands of runners begin a 26-mile journey from Hopkinton, Massachusetts, to their final destination, Boston, Massachusetts. This is the Boston Marathon.
When exactly is it? The Boston Marathon is held every year on the third Monday of the month of April. This year, April 19 was that special day.
How many years has it been around? This year was the 114th marathon.
How many people run in it? The current maximum capacity for the marathon is 25,000 entries. However, in 1996, over 38,000 participated in the event.
Are there qualifications? You bet, and they are quite strict. Depending on age and sex, there are various qualifying standards. For example, a man between the ages of 18 and 34 must be able to complete a marathon in less than 3 hours and 10 minutes. A woman qualifies in the same age bracket with a time less than 3 hours and 40 minutes. Runners must have proof of their ability to run this time (a recent, official race time). Look here for a full list of qualifications.
How did it start? Originally, the Boston Marathon was only a local race. There was no entrance fee, and the winner simply won an olive branch wreath. However, a few decades ago, professional runners began refusing to run the race without cash rewards, and since 1986, cash prizes have been awarded for winning it.
What are the records? The fastest time for men is 2:07:14, set by Robert K. Cheruiyot from Kenya in 2006. The fastest time for the women's open is 2:20:43, set by Margaret Okayo from Kenya in 2002.
How many people watch? Nearly half a million spectators flock to the area to see this event. It is the most widely-viewed sporting event in New England.
And last but not least, where did Heartbreak Hill get its name? It has been said that in 1936, defending champion John A. Kelley passed Ellison Brown, who had been leading the race, on this hill which stretches .4 of a mile between mile 20 and 21. However, Brown rallied and took the win, "breaking Kelley's heart," according to reporter Jerry Nelson from the Boston Globe.