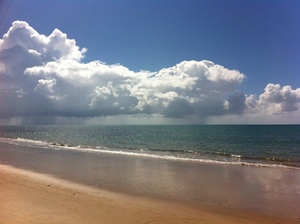 If you're lucky, or just have good planning, your week off from exercise might coincide with your vacation; however, if that's not the case, it will take some extra work and a few special considerations to continue your training appropriately while you take your "break."
Depending on one's current training program, simply taking the vacation week as extra rest may be okay; however, if that marathon registration has already been processed, and the race isn't too many weeks away, continuing with your training plan to the best of your ability is critical.
The safest option by far is to simply find a gym or hotel that allows one to run on a treadmill. Treadmills allow one to control pace and incline in a controlled environment. Runners on a treadmill are safe from traffic, will never run out of daylight (no pun intended), and do not have to worry about getting lost or being stranded in an unfamiliar area. Naturally, there are a couple reasons why running outdoors can be favorable, not to mention the general tedium of running on a treadmill. The first is that accessing a fitness center can cost extra money and take planning. The second is the fact that putting in mileage outdoors can be one of the most efficient ways to explore a foreign place.
If you do decide to run around an unfamiliar place, here are a few considerations that should be made:
Temperature. Whether hot or cold, if the temperature is at a level with which you are unfamiliar, exercise caution when on a run. If the weather is hot, be sure to hydrate well, and slow down if you're feeling more labored than usual, even if you are running at your regular pace. Ask locals, "When is the best time of the day to run?"
Light. On the flip side of temperature is usually the issue of light. A mid-day run in the tropics will be brutal, and it is simply not smart. It's usually best to take off as the sun is rising, or an hour or so before it sets. Pack reflective gear to stay visible to traffic in conditions of low light.
Direction. Always take a look at a map before you go on a run. Ideally, the entire route could be planned out. Not only will that help with staying oriented and getting a sense of how far along in the run one is, but it might even cause one to notice a nearby park or monument within running distance that you otherwise would have missed. Again, you might as well refer to the locals, "Where's a good place to run around here?"
Keep running, but be smart and stay safe.
Editor's Note – Louise is a three-season athlete for varsity sports teams at Div. III MIT. She runs cross country, and she is also a mid-distance runner during indoor and outdoor track. She currently holds the school record as an individual in the Mile, and shares the title for the 4x800m relay and Distance Medley Relay. A junior this year, she earned All-America status (Top 8) at Indoor Nationals in both prior seasons, and has high expectations for the upcoming indoor and outdoor seasons.