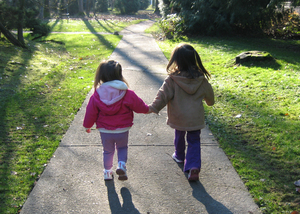 Did you know that September 24 was Family Health and Fitness Day? I didn't, but the day, which targets the promotion of a healthy lifestyle, has been marked for 15 years, and it encourages families to make time to get and stay fit together.
Often, time is one of the hardest things to pencil in when it comes to family fitness efforts. You could always schedule weekly workouts, but this seems impossible in the beginning, although there are other ways to find time to exercise together.
It's true most people have something planned for practically every hour of the day, but it's also possible to take just 10 minutes for a brisk walk. Starting with short blocks of time breaks down exercise into manageable portions. It also makes the idea of fitness less intimidating. Physical activity won't appear so much of a chore, and it will be something to look forward to each day. It's easy enough to convert a walk into a jog for a mere 10 minutes, and it becomes easier to increase the time spent exercising after that.
Another way to find time to exercise as a family is by exchanging something that is regularly done in the home but confers no physical benefit. In most households, this means not watching TV before dinner is ready. No one is immune to the lure of the idiot box, but realizing that the attraction often stems from boredom allows you to find an alternative activity that is both useful and fun, such as having a game of Frisbee or, if the weather's too cold, a game of hide and seek around the house. Considering the running time of most TV programs, it's an easy way of sneaking in 30 minutes of exercise practically every day.
Aside from this, make it a point to not use the car when you need to travel short distances together. This might not appear feasible if you have young children, although it does provide a form of strength training. Alternatively, there's always the good ol' standby of getting everyone involved in the garden chores from time to time.