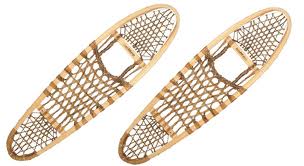 Will the snow ever stop? Maybe not. Well, if it does not, you could switch over your walking workout to a snowshoe powerwalk. Snowshoeing can have major benefits when it comes to going for a walk outside.
A study done by the University of Vermont actually showed that showshoeing about three miles per hour on packed snow was comparable to walking four miles per hour on a flat treadmill. Similarly, if you are walking on powdery snow, you could walk at two miles per hour, and that would be comparable too. In general, if you are looking for a good cardio walk, you might want to try on snowshoes!
If you are snowshoeing on flat terrain, you will burn about 170 calories per mile vs the 112 you would have burned walking. On a bumpy terrain, you should expect to burn about 200 calories per mile. Overall, you will be expending more energy snowshoeing than you would had you traversed the snow with a normal walk.
The type of snow will affect your workout. The hillier the terrain, the harder the workout will be. Likewise, if the snow is more powdery, it will be more of a workout as well. Also, the quicker you walk plays a huge factor in your total calorie count.
There are many reasons to pick snowshoeing over a simple walk. The first is that you can enjoy the outdoors even more by snowshoeing; however, you could snowshoe on city streets as well! In general, it is a great alternative for when the roads are too icy to walk on. Wearing snowshoes will reduce the chance of slipping or getting injured while you are walking around in the winter. Snowshoeing will help your cardiovascular health and use most, if not all, of the major muscle groups if you are walking correctly. Unfortunately, you cannot always snowshoe, and the gear can become expensive; however, you won't take showshoeing for granted when you are exercising in the winter and your friends are snowed in!