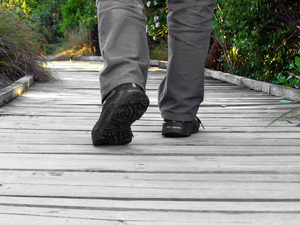 One form of walking is trail walking. To me, being in the great outdoors is always a treat, and when I can get some exercise in at the same time, I am even happier. One of my favorite ways to enjoy the scenery is by hitting the trails and hiking. Hiking gives me a goal, as I have a love for always climbing as high as I can.
Hiking in the summer is a great workout for many reasons. I enjoy the trails because they are typically shady. The summertime can get hot and humid NH, so instead of not exercising because of the heat, I workout in the trails. The shade provides a cool environment that protects me from the sun's UV rays.
Another reason why trail walking is a great workout is that it can be better for your joints than running on the pavement. Grass and dirt are much softer than cement or blacktop, which is easier on your joints; however, be sure to keep your balance and be on the lookout for roots and rocks!
You can burn a lot of calories by doing trail walks. They will challenge your muscles to do something new, and more muscle fibers will be engaged that your body does not usually use on a road walk. If there is an incline, that will be even better for you! The terrain change will also help you work on your balance.
Another reason why trail walking can be very effective for your workout is because you can get more clean air to your body. Pollution is everywhere, so if you are somewhere with less cars and more protection, you can get better air!
As I mentioned before, I really enjoy trail walking because it is a great workout, and it is a chance to explore the outdoors. Getting to the summit of a mountain is a great feeling and you feel so accomplished. I really enjoy trails because I never get bored. There is always something to check out, so I usually get so distracted that I forget that I'm getting a great workout in!