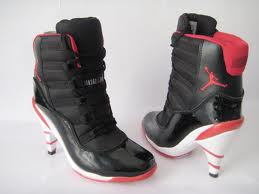 These days there is pretty much a workout for everyone. The only thing missing, perhaps, is how to train your biceps while lifting those chips to your mouth. Here is a list of some of the strangest classes offered to strengthen your lower body held around the US. The proof is in the pudding. Many of these classes will sculpt and shape your body – just ask those who shell out a lot of money to take them!
High heeled workout – Anyone who has spent a day running around in a pair of high heels knows it can be quite a workout. And now you can even practice at the gym! Taking a high heel class is an excellent way of training the calves, butt, and balance. For someone like me, who has a hard time wearing a pair of high heels just walking down the street, I imagine a class like this can be a great challenge. It's also a way to get you looking great before your next evening event! These high heeled workouts are sometimes combined with strip classes, so go for what you feel comfortable with.
Vibration/power plates – These machines look like giant scales, and they vibrate worse than your washing machine. The idea is that you stand on the plate while it is vibrating, and perform a series of stretches. The body will naturally use all of its small muscle power to keep you standing straight and to maintain balance. Many physical therapists actually recommend using a vibration plate while recovering from injury, because it works many muscles that are difficult to target otherwise. Many of these classes combine stretching and yoga – don't expect a lot of cardio here, as you will be working on standing in one place!
Tight rope walking – It may not seem like a great form of exercise, but learning to make it across a tiny wire above the ground is a great way to train your lower body. You will be focusing on different muscle groups, since you will be shifting your center of balance. After practicing for an hour, you will definitely feel it the next day. You do not need a gym for this one; just invest in a small tight rope you can hang between two trees at your home or at the park. Start out close to the ground and bring a friend to spot you. Also the repetitive climbing up and down from the rope is great for your glutes! Finally, falling down and standing up again is also a great workout!