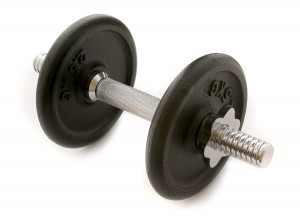 As with any organized sports team, working out and conditioning are a major part of the season.  Being a member of my high school's wrestling team, I experience the joys of workouts on a daily basis.  Here are my suggestions for making a wrestling workout part of your regimen:
Before I get started explaining all of the pieces you should know that most of the workouts that we use for conditioning at wrestling practice are actually every day workouts that can be done just about anywhere.
Every day before we do anything else, we go and lift weights for an hour.  We do our weights in descending sets of 10, 8, and 6, while increasing the weight with each set.  We do certain exercises, such as bench press, squats, tricep extensions, calf raises, and leg curls.
After we finish this workout, we go and do a run throughout the school.  Our high school is shaped as a two-story horseshoe, so we do anywhere from 4 to 20 laps throughout the school, including stairs.  Six laps is about ten minutes when you are running full speed.  Sometimes we work high knees and butt kicks into the running.
When we finish running, we often do a trio of jumping jacks, push-ups, and sit-ups.  When we do the trio, we start with 3 count jumping jacks, then push-ups, and finally sit-ups.  We don't follow a set pattern.  Sometimes we'll do sets of 20 or all the way up to 40.  Also, we've done as many as three repetitions of this.  When we are doing push-ups, we hold them at the lowest point for about 1-2 seconds.  Also, we will hold our last one or two push-ups at the lowest point for as much as 30 seconds.
When we finish our wrestling for the day, we may do another trio or go running again.  Also, we do spins.  To do a spin:  If you have something like a bench or a partner on all fours (who is close in weight or more), you can place your chest on top of it (or your partner's shoulders) and rotate around, using your legs to push off.
Hopefully with the help of this workout, you'll be in some of the best shape of your life.  This workout can be done just about anywhere, and substitutions and additions can be easily made.  Just remember to work hard and try your best!