The movie 300 has redefined fitness in the minds of many.  The incredible fitness levels of the cast motivated the hordes to learn how they got that cut.  Numerous people have created workout plans focused around it.  Today, I will share my favorite with you.
First off, I am a fan of working major muscle groups.  I like to focus on strength, speed and endurance.  To accomplish this I alternate workouts every month.  The 300 is best for muscle endurance.
300 to me, means 300 reps.  For the first two weeks, I do the following: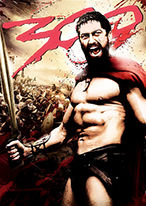 Pushups – sets of 25, 25, 25
Situps – sets of 25, 25, 25
Chinups – sets 10, 10, 10
Lunges – sets of 20, 20, 20
Dips – sets of 10, 10, 10
Leg-ups (hang from bar and drive knees to chest) – sets of 10, 10, 10
I start with one exercise and do one set of each, then take a two minute water break and go again.  I like to start with a different exercise each time to keep it fresh and challenge my muscles.
Every two weeks, I like to add ten percent more (round up) to the reps.  Pushups and situps are now at 28 reps, lunges equal 22 reps per set and the rest are up to 11 reps.  After the first add-on you will be up to 333 reps.
I love to use this workout as a cross-training tool.  When I get bored with my normal routine this is an awesome workout to use as a supplement.  You will get a full body workout each time you do it.  Not to mention a great aerobic routine, if you take short breaks in between supersets.
Another great feature to a routine like this is that you can do it right at home.  By installing a chin-up bar, you can accomplish each of these exercises without burning gas to get to the gym.  There are numerous doorway style bars on the market, and they are extremely affordable.  For the dips you can use a sturdy chair.  Put your hands in the front corners and your feet on the couch.
The point is that for much less than $300 you can get ripped like the cast of 300 with a simple workout.