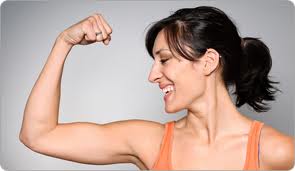 I'd be willing to bet that you want to tone-up your legs and arms but you face one or all of the following problems:
1. You don't have a lot of time to work out.
2. You get bored doing the same exercises.
3. You don't know what exercises to do.
4. You don't want to go to the gym.
Well, I have four solutions for you!
I've put together my top 5 five butt, thigh, and arm-toning exercises in a quick routine that can be done without having to go to the gym.
So all of your problems have been solved…
1. You can do this routine in only 15 minutes.
2. I've made it fun! So, no worries about getting bored.
3. You no longer have to wonder what to do.
4. You can do this routine right from home with minimal equipment.
What You'll Need:
• One pair of dumbbells 5 to 10lbs
• A chair
• A resistance band (light to medium)
• A stability ball (make sure it's burst resistant)
• A medicine ball 4-6lbs (a dumbbell may be used instead if you don't have one)
• BOSU ball (optional) * If you're looking for advanced balance training, this is a great piece of equipment to add you your tool kit!
I recommend investing in some high-quality equipment to train from home. I typically use all of the above-mentioned pieces in my exercise routines—that's it! No fancy gym equipment needed!
Check out our online store for professional-grade stability balls and bands at affordable prices.
This workout is a circuit routine. So, you'll perform each exercise for 10 reps back-to-back, then repeat the circuit for a total of three circuits. [youtube]http://youtu.be/6T1nYv1Lxx8[/youtube]
Note:
The chop and lift may be performed on the ground as a modification.
This workout is appropriate for intermediate to advanced exercisers. If you want some tips for additional modifications, please leave me a comment on FriendYourBody.com, and I'm be happy to help you!
To your sexy legs and sleek arms,
Melissa Koerner