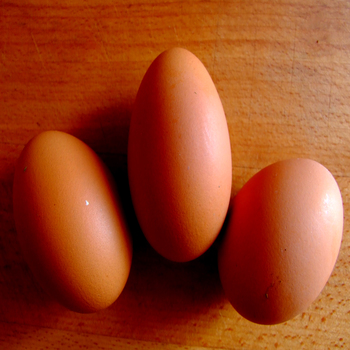 It's time to cast aside the Cheerios, instant oatmeal and pre-packaged breakfast bars, and start your day with REAL food!
If you want to be bursting with vitality and look and feel your absolute best, you MUST fuel your body with wholesome foods, especially at the start of your day.
When you start your day with a balanced breakfast, consisting of healthy proteins, fats and carbs, you stoke your metabolism and boost your energy!
Below are my top 7 breakfasts.   They are all simple and easy to make, and more importantly, they contain healthy, wholesome ingredients.
Try one (or all) of these yummy, healthy breakfasts to help you kick start your day!
Mango Bango Smoothie
Instead of drinking store-bought, processed protein powder that is loaded with sugar and chemicals that are hard to pronounce, use whole, organic yogurt as your protein source and add some fruit to create a balanced meal.
Here's all you need:
8-10 oz. plain organic yogurt
1/2 cup frozen mango chunks
1/2 cup frozen pineapple chunks
1 ripe banana
2 Tb. raw honey
Directions:
1.  Put yogurt in blender then fruit and honey.
2.  Blend until desired consistency.
3.  Enjoy!
My secret smoothie weapon:  the Vitamix.  This amazing machine takes your smoothie experience to a whole other level!
Coconut Breakfast Bars
These are great substitute for the pre-packaged, processed breakfast bars.  You can make a big batch to last you a few weeks.
Here's all you need:
1/3 cup organic brazil nuts
1/3 organic raw walnuts
1/3 cup organic raw cashews
1/3 cup organic raw almonds
1/4 cup organic raw sunflower seeds
1/4 cup organic raw pumpkin seeds
1/2 cup organic unsweetened coconut flakes
1/4 tsp. liquid stevia
1 tsp. maca powder
1 1/2 tsp. cinnamon
1/3-1/2 cup organic coconut butter
Directions:
1. Place all nuts, seeds, coconut flakes, cinnamon and maca in a food processor and grind to coarse mealy texture.
2. Add coconut butter and Stevia and regrind.
3. Press mixture in glass Pyrex dish and cut into bars.
4. Store in freezer.  Best served cold.
5. Enjoy!
Apple Cinnamon Oatmeal
When you eat oatmeal make sure that it's the stovetop kind, NOT the instant.  The instant packs are loaded with sugar and other not-so-good for you chemicals!  If you don't have time to cook the stovetop oatmeal, make a big batch of it ahead of time so you can just eat a small bowl before you head out the door.
Here's all you need:
1 cup steel cut oats
½ green apple sliced
1 tsp cinnamon
1 tbsp real maple syrup
¼ cup raw, organic cream
Directions:
1. Cook oatmeal on the stovetop as directed.
2. Add maple syrup and cream.  Mix
3. Add green apples and top with cinnamon.
4. Enjoy!
Raw Granola and Blueberries
If you're looking for a healthy replacement to your typical processed, sugary and chemically-laden boxed cereal, this is a healthy, yummy and easy substitute!  A good rule of thumb when buying something in a package is to make sure that you can actually pronounce all of the ingredients. Personally, if I can't pronounce it, I don't eat it!
Here's all you need:
1 cup "Go Raw Apple Cinnamon Granola"
1 cup raw, organic milk; almond milk or coconut milk
½ cup blueberries
Directions:
1. Pour granola into bowl and top with blueberries.
2. Add milk of choice.
If you're wondering what's actually in the granola, here's a list of the ingredients in this tasty, crunchy treat:
Sprouted organic buckwheat groats
Sprouted organic flax seeds
Sprouted organic sesame seeds
Organic apples
Raw organic agave nectar
Organic cinnamon
Eggs and Fruit 
This is a simple and super-healthy breakfast.  Eggs (assuming they come from healthy chickens) are one of the best complete sources of protein found in nature.   If you don't have the time in the morning to cut up fruit and cook eggs, cut up a bunch of fruit and cook a dozen eggs ahead of time so they're ready to grab when you're on the go.
Here's all you need:
2 eggs
1 cup of mixed fruit of your choice
Directions:
The best ways to cook eggs is by lightly grilling (sunny side or over easy), soft or hard-boiling or poaching them.  If you're going to grill them, I suggest cooking them in a cast iron pan with 1 tbsp of coconut oil.
English Muffin with Almond Butter and Sliced Banana
I don't recommend having bread is a staple in your daily breakfast because the grains used to make bread flour are highly refined, which means eating bread impacts your blood sugar levels.  Therefore, bread should be consumed in limited quantities.
When you do buy bread, buy breads that are made with organic, sprouted grains and make sure that you can pronounce all of the ingredients on the label—you may be surprised by some of the additives that food companies put in your commercial bread!
Here's all you need:
1 organic, sprouted grain or gluten-free English muffin
1 Tb. raw almond butter
½ banana, sliced
1 tsp. raw honey (optional)
Directions:
1. Toast English muffin to desired crispness.
2. Spread each half with honey then almond butter.
3. Top each half with sliced bananas.
Yogurt Berry Parfait
Here's a much healthier alternative to eating flavored yogurts—those yogurts are pretty much liquid candy bars!   This recipe is my personal favorite breakfast.  I LOVE it!
Here's all you need:
8-10 oz. plain, organic yogurt
1/3 cup blueberries
1/3 cup strawberries, sliced
1/3 cup raspberries
1 Tb. crushed nuts (I like almonds, pecans and walnuts)
1 tsp. ground flax seeds
1 scoop Stevia Now (optional)
Directions:
1. Pour some fruit in the bottom of your class, then add some yogurt.
2. Repeat in this fashion until you have a few layers.
3. Top your parfait with the crushed nuts and flax.
Of course, you don't have to stack all of the ingredients in layers.  You can put everything in a bowl and mix!
Give your friends and family some healthy breakfast ideas by clicking the "like" button.
And if you haven't already, be sure to go to FriendYourBody.com to download your FREE Get Fit Starter Pack.
To starting your day with the best breakfast!