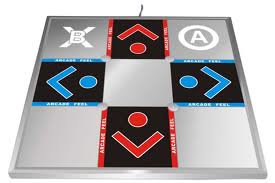 There is no end to the different options you have for practicing and improving your cardio from home. There are Zumba videos that get you dancing, and all sorts of cardio videos to get you jumping around, but dance video games are perhaps one of the most family friendly ways to boost your cardio at home. Get everyone up and moving together, and workout out without realizing it. Here are some of the most popular dance games available today.
1) Just Dance Series – The Just Dance series of video games offers a wide variety of music for any taste. You can choose Disney tunes for the younger set or the latest pop hits for teenagers and grown ups. Either way, these dance tunes, and the corresponding movements, will get you laughing and moving and burning calories. You don't need to splurge and buy multiple versions of the game, since they are all rather similar, but if you like it, there are certainly a lot of options. And like other dance games, you do not need any mats or additional accessories.
2) Zumba – If you find the Zumba videos lacking in interaction, you may prefer the video game version. You can track your progress with your machine, choose your difficulty, and get a more specific and targeted workout. The game comes with an additional accessory, the Zumba belt, which is comfortable to wear, and the dance moves are a little easier to follow than the Just Dance series.
3) Dance Dance Revolution – The pioneer in modern dance video gaming, Dance Dance Revolution requires a dance pad to play, but these are not expensive. The dance moves are also not something you might see at the club, unlike the moves from the Just Dance series, but the program does tell you how many calories you burn, and the use of the mat really gets people moving.
4) Individual Artist Dance Games – Some musical greats have their own dance game; check out the Abba game, the Black Eyed Peas, or Michael Jackson. These games are great if you are a huge fan of the artist. That should be enough to keep you motivated.
Dance video games are a great way to get the entire family up and moving together. Pop in the game, and go to town with your little kids, or let your teens play alone. You can play on weekend mornings while they are still sleeping. They offer a great full body workout, because they require all sorts of steps and arm movements.
If you are the kind of person who hates going to the gym, this is an alternative for you.