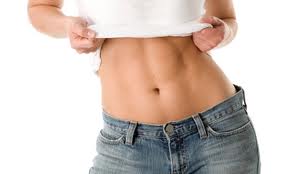 Perhaps you have been slacking on working out your core because of the busy summer, or you have decided that it is time to concentrate on strengthening your core for better balance and strength. Your core is where all of your stability comes from, and it is so important to help avoid injury by keeping your body in perfect form when working out. This is a good time to go back to basics to strengthen your core to get a sleek waistline, toned abdomen, a strong back, and great balance.
The Superman – The lower back is often a neglected area when it comes to core training, but it is a common area where pain is experienced. Firming up these muscles will alleviate pain and help support other muscles in your core. Lay flat on your stomach with arms stretched in front of you. Lift your legs and arms from the ground and hold for ten seconds keeping your arms and legs straight. Slowly lower to the ground, and then repeat. Your goal is 3 sets of 20 reps.
Bird Dog – This exercise will work the abdominal muscles and stretch the back muscles. Get on your hands and knees with your head up. Keep your eyes straight ahead. Lift your right leg and extend it straight out behind you while lifting you left arm and stretching it straight forwards. Hold for 10 seconds, and then switch sides. Your goal is also 3 sets of 20 for this movement.
Planks – Start by lying on your stomach. Bring your arms up to rest the front of your body on your elbows, hands facing straight forward. With your feet, get on your toes so your body is lifted from the mat. Keep your back and hips in straight alignment. Hold for 1 to 2 minutes, then release. Your goal with this movement is 4 sets of 1 to 2 minutes.
Remember to listen to your body, and if you feel pain, stop. Remember to breathe, too. Crunches and sit ups are not the way to a strong core. You need to incorporate movements that will work all of the muscles in your core, both back and front. Perform this group of exercises 3 days a week. You can add them after a regular routine, or use them to strengthen your core to move into a regular routine if you are just starting out. Remember the importance of a strong core in order to gain stability, balance, and strength, which is imperative for any strength training regimen.