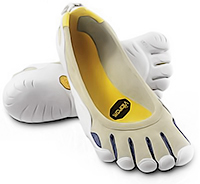 Though some people may find these "shoes" attractive, I think that they are the funkiest pieces of footwear I ever have seen! Remember those good ol' toe socks? Okay, well these shoes are similar to the socks in the sense that every toe has its own spot.
Vibram FiveFingers are supposed to provide your feet with an all natural sensation. With these shoes you feel as if you are walking barefoot. FiveFingers will help to engage all of the sensory receptors, tendons, ligaments, bones, and muscles. When your feet are stuck in a pair of shoes, all of these different elements of the foot cannot always be stimulated and exercised. FiverFingers can solve all of those problems! These shoes will help your balance, agility, and proprioception (The ability to sense stimuli arising within the body).
FiveFingers are made up of a thin, abrasion-resistant stretch polyamide fabric, and the sole is made of Vibram's TC1 performance rubber compound. These materials are non-marking, and they provide grip not only in dry conditions, but when it is wet outside as well! To make it even better, you wash them in a machine. Another fun fact is that every style and color of these shoes are made out of vegan friendly materials.
FiveFingers allow you to feel in touch with the ground. You can feel the different types of ground cover, such as the grass, gravel, pavement, and more. You even can feel the rocks underneath your feet without having to worry about hurting your feet. Some people say that their posture has improved and that they have less back pain. This is because regular shoes raise your heel a few inches higher then what is natural for your body. FiveFingers will help your foot to strengthen itself naturally as life intended it to.
These shoes are around $80, so they are pretty expensive, but they seem like a good shoe to try out. I know a person who owns a pair, and he absolutely loves them. Even though his coach hates it, he even uses them to run.
*Vibram is looking for runners to try out this shoe for a study that is being conducted by Professor Daniel Lieberman at Harvard University.