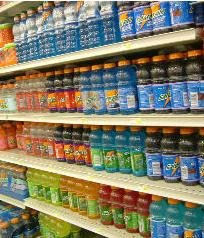 When you are training for more than 90 minutes, you are going to want to replace the glycogen that you have lost. Glycogen is your body's main source of fuel, and one of the fastest ways to get it is by ingesting a carbohydrate that is easily digestible. Gels and Gatorade are two ways of accomplishing your goal of replenishing glucose levels.
Gels are "new" and easy to transport. They even have gel compatible running belts now! They are pretty light, and they are packed with carbohydrates that are easily digested; however, gels do typically need to be taken with water. This makes it harder to use them.
Gatorade has a six percent carbohydrate concentration. Studies have showed that this is good for rapid absorption; however, Gatorade can be more difficult to store and carry with you during your workout.
There is no right answer when it comes to picking the fuel that you need to replace the glucose in your body. You should test out whatever medium you want to test out to see which one works best for you. If you have the ability to get water throughout your workout, then perhaps the gel packs are better for you; however, if your workout is rather stationary, then Gatorade might work as well.
You might also be someone who can get away with grabbing a few grapes or fruit. As I mentioned before, you should really try out different fuel sources to see what works for you during extending workouts. In the end, you should be prepared for your workout. You should have about 600-800 calories ready to be burned if you are going to exercise for more than 90 minutes. Be sure to have the right calories ready to be burned! Plan accordingly, and be sure to keep yourself safe!