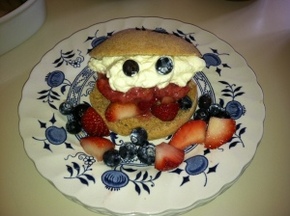 This is the first in a two part series on guilt-free desserts.  Check back for more delicious recipes!
Every now and then I like to indulge in something sweet, but I don't like to eat your typical store bought desserts; they are loaded with sugar and other chemicals I just don't want to put in my body.
Below are my go-to "desserts." They are all made with organic ingredients, and not one of them has white sugar! These are sweets that actually have nutrition in them, so no need to feel guilty about eating them.
Homemade Creamy Chocolate Ice Cream
This is one of my summer favorites. It's a custard-like ice cream that melts in your mouth. It is very rich, so you don't need a lot to get your chocolate fix.
Ingredients:
2 cups raw, organic whipping cream (I love Brookford Farm in Rollinsford, NH!)
1/3 cup cacao powder
1 1/2 tsp organic vanilla extract
1/4 cup raw cacao nibs
4 large egg yolks
1/2 cup raw honey
Directions:
1. Whisk together cream and cacao powder in small saucepan until smooth.
2. Place over medium heat, and bring mixture to scalding point (milk begins to foam).
3. Add cacao nips, and stir until chips slightly melt (you can try to melt them all the way, but I personally like the chips).
4. In a stainless steel bowl, beat the egg yolks with honey until light and fluffy. A hand mixer works best.
5. Gradually pour hot cream and cacao mixture into whipped egg mixture, making sure you keep whisking constantly so eggs do not curdle. If lumps form, strain mixture before heating.
6. Place bowl on a saucepan of simmering water. Stir constantly with wooden spoon until custard thickens enough that it coats the back of a spoon. (The term "coat the spoon" is a way to test if egg-based custard is done. The wooden spoon is place in the custard and when raised, the film of the custard on the back of the spoon should stay in place even when you draw a line with your finger through the middle of the custard).
7. Immediately remove the custard from the heat, and continue to stir the custard so it does not overcook.
8. Cover and let cool to room temperature. Refrigerate until completely cold (several hours or overnight).
9. Transfer cold custard to ice cream machine and follow manufacturer's instructions (it usually takes about 25 minutes).
10. Once made, transfer to a glass or ceramic container, and store in your freezer.
Strawberry Shortcake
I got this recipe from my boyfriend's mom. She made it for us as part of our Fourth of July dinner. It was so good I had to add it to my list!
Whipped Cream and Topping Ingredients:
1 pint raw whipping cream
3 containers organic strawberries, cut
1 container organic blueberries
Shortcake Ingredients:
2 cups organic Spelt flour
1 tbsp organic baking powder
1/2 tsp sea salt
2/3 cup raw Brookford farm milk
8 tbsp Kate's butter (softened)
2 tbsp raw honey
1 organic egg
Directions for Shortcake:
1. Mix all ingredients together, slightly knead dough together.
2. Roll out dough on floured surface and cut 3″ round biscuits (1/2 inch deep).
3. Place on ungreased cooking sheet. Bake at 400 degrees for 10-12 minutes.
4. Let cool.
Strawberry Sauce Ingredients:
1 of the 3 containers of fresh strawberries, cut
1/2 fresh organic lemon, juice
1 tsp. raw honey
Directions for Strawberry Sauce:
1. Mix all ingredients together in saucepan over medium heat. Crush and stir berries until warm.
2. Set aside and cool.
Assemble shortcakes by alternating shortcake, strawberry sauce, fresh cut strawberries, and repeat. Top with fresh whipped cream and organic blueberries.
Crushed Dates Rolled in Coconut
When I want something quick, this is the perfect sweet snack. I usually eat one with a small glass of raw milk to offset the sugar; otherwise, I'd experience a serious sugar crash shortly after eating it. You'll find that you don't need to eat a lot of these; there's plenty of sweetness in just one!
Ingredients:
Dates
Crushed coconut
I buy these premade at my local natural food store, the A Market, but you can easily make them yourself. Simply mash up some dates and roll them in coconut. It reminds me of a Samoa Girl Scout cookie, but a much healthier version, of course.
Chocolate Chip Yogurt
This is a healthy substitute for chocolate chip ice cream. It's not only yummy, but super quick and easy to make.
Ingredients:
1 cup of plain, organic yogurt
Dash of stevia
2 tbsp of raw cacao nibs
Directions:
Mix all ingredients together and enjoy!
Leave me a comment on FriendYourBody.com if you enjoy one of these recipes!
Melissa Koerner