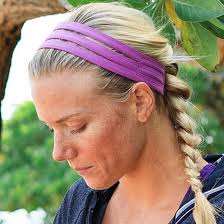 You have finally figured out the best hairstyle for when you are working out, be it a braid, headband, high ponytail, or just really short with the sides pinned back. Nothing is more irritating than to be in the middle of a set and have to stop to get fly-aways out of your face where they are sticking to perspiration, or to have a few hairs come loose that are tickling your nose. Even if your hair is in a bun, it can still fall down while working out. Here are some new ideas to keep your hair out of your face that also add some fashion to your workout look.
Braided Headband – Braided headbands will have traction because of their texture. You can wear your usual workout hairstyle, and add a braided headband to keep the fly-aways from getting loose. They come in array of colors to match your workout wardrobe, and cost under $12.
3-Strand Band – For a couple of dollars more you can get a 3-strand band that will pull double duty by keeping hair away from your face, as well as help with moisture wicking. They are very stretchy, but are held in place with silicone on the underneath part to keep them where you put them throughout the workout.
Snag Free Hair Elastics – If you have longer hair that you tend to pull back into a ponytail or a bun, then you know how tangled it can get in the bands used to secure it in place. Opt instead for snag free hair ties that will still keep your bun or ponytail secure, but they will effortlessly slide out when it is time to remove them. They also reduce breakage, so these are great for every day if you wear your hair up a lot.
Recycled Wide Headband – Recycled from polyester, a little spandex is also added for stretch and perfect fit. With them being wider, they are perfect for those with short hair to keep all of the hair back, and also for those with thick hair because they really stay in place. You can find ones that are reversible as well, which give you a solid side and a patterned side to flip over to match more of your outfits.
Dance Headbands – These are the same stretchy headbands that we have seen for years, but with a twist. They are now available with sparkly additions like sequins, glitter, and ornaments. These are also pretty to wear when not working out as a chic accessory for going out.