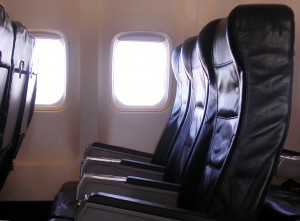 Why spend two to three times what you'd normally pay for a snack when you fly? With airlines raking in money on their onboard menu offerings, passengers oftentimes finding themselves paying outrageous prices for everyday foods, such as $2.89 for a CLIF Bar energy Bar or $5.49 for a serving of fruit and nut mix. There's no reason to be hungry or to pay through the nose when you're mid-flight.
Whether you're flying commercial, private, or have a fractional private jet ownership, you need to think about your snacking before boarding your flight!
With a little bit of pre-flight planning, you can eat a healthy, nutritious snack and save some money, too. Here are several great snack tips that will ensure you eat well (and cheaply) on your next flight:
Fresh fruit is an excellent choice, especially apples, seedless grapes, blueberries, raspberries and bananas. Oranges and other citrus fruits might be messy, so bring some towelette packets if you opt for juicy fruits.
Trail mix provides a high-energy, convenient snack. You can make your own with some raisins, banana chips, sunflower seeds, craisins, granola and chocolate chips.
Cheese and crackers make a nutritious, calcium-loaded treat, especially if you use low-fat cheese and whole grain crackers.
Dried fruit is an excellent healthy snack choice and is easier to deal with than fresh fruit.
Pack some granola bars. They're inexpensive and hold up well during travel.
Vegetables, like carrots sticks filled with Vitamin A and potassium or celery, which is loaded with vitamins K and C, are an excellent on-board snack choice.
Power bars make an excellent snack choice, especially if you're on a long-haul flight.
Beef jerky provides a protein burst when you're stomach's growling.
Potato chips are a great comfort food. Be sure to look for varieties that are low salt and/or baked.
Small sandwiches made with rolls, pita bread, or bagels and low low-fat fillings like hummus spread, chicken, tuna, banana or cottage cheese provide nutrients and will quell those hunger pangs for a long time.
Oat cakes and rice cakes with low-fat toppings like banana or fruit spread are delicious and good for you.
Apple and cranberry muffins are a high-carbohydrate, low-fat snack that will whet your palette, too.
Check TSA's website at Food and Beverages for the latest updates on what is and is not allowed on board.
Be sure to wrap your snacks or to put them in a container.
Beverages need to be in 3 oz or less serving sizes.
Note TSA's 3.4 oz rule for food: Passengers must put the following items in their checked baggage if they have more than 3.4 oz of the item: cranberry sauce, creamy dips like peanut butter and cheeses, gravy, jellies, jams, maple syrup, oils and vinegars, salad dressing, salsa, sauces, soups, and alcohol.
Avoid packing peanuts or peanut-derived products because your fellow passengers may suffer from peanut allergies, which can cause an acute, life-threatening reaction.