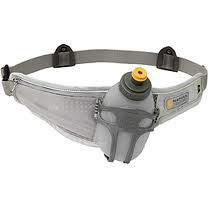 There was a time when I didn't speak too highly of hydration belts. I didn't like the idea of carrying extra water; I imagined it would uncomfortably slosh around during my run. The first hydration belts probably did cause some discomfort during exercise. Of course, things have changed. As we can always expect to be the case nowadays, improvements in technology and design have led to a number of new hydration designs that are sleeker, lighter, and more comfortable than ever before. A few big names in the hydration belt business are FuelBelt, Amphipod, Ultimate Direction, and Nathan.
Out of the bunch, I've found Nathan Performance Gear to provide the greatest selection of water bottles designed to be carried during exercise. They've managed to come up with five distinct categories for the types of on-the-go water bottles that they offer (this does not include backpack-type carriers). As if that's not enough, each category then offers a number of different options:
Speed Series. Belts like the Swift are molded to fit snugly about the waist, and they allow just enough room for a small flask or two, as well as an emergency card. Reflective detail is a bonus safety feature (found on most Nathan hydration carriers).
Waist Paks. If you're not in as much of a rush, you can go with the 22-oz. bottle designs to avoid dealing with multiple bottles. The Triangle and the Trek both offer angled bottle hostlers, while the Velocity offers a "horizontal solution" for those who want to be able to access their bottle from both sides.
Trail Series. These ones are especially designed to eliminate the bounce on rocky terrain. Choose between the 2 or 4 10-oz. flash designs.
Elite Series. Unique design of the Elite Series allows easy, intuitive removal and replacement of the hydration bottle.
Handhelds. Handhelds are for athletes who don't quite want to commit to the belt. The bottle and carrier of the QuickShot weighs a pleasantly puny total of 1.6 ounces. The QuickShot has a cap with a one-way valve that allows for fast flow when you need it. The Thermal Quickshot has an insulating layer that keeps some distance between your hand and the bottle so that your liquids stay cool.
So no matter what type of exercise or what type of intensity, there's bound to be a hydration "belt" that suits your needs. Summer is just around the corner, and you'll get the most out of your workout if you stay properly hydrated. Never allow the fear of an uncomfortable carrier keep you from getting the hydration you need.