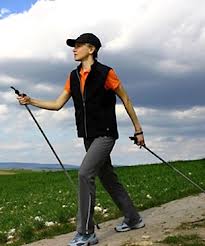 Nordic skiing, or cross country skiing, is a great workout; however, in order to go Nordic skiing, you need snow! If you are looking for a cardio workout that can help you achieve most of the same benefits as Nordic skiing, then Nordic walking might be for you!
According to Nordic Walking USA, in comparison to regular walking, Nordic walking can be up to 40% more effective if you use the right tools. Many people even increase their workouts by 10-20%. If you use specifically design hand held poles, then you can burn up to 40% more calories than you would have with normal walking techniques while strengthening your upper body as well. Best of all, you can relieve some of the unwanted stress on your joints.
When it comes to using the poles, it is similar to cross country skiing. The poles are used in sync with your steps. These poles are design to work the upper body while walking. Some areas that will get a workout through correct usage of the poles include the arms, shoulders, upper chest, and back muscles. With the correct stance, you will strengthen and lengthen these muscles which often helps people who hunch forward. It also helps to loosen up those stress knots that many people form at the back of their necks and in their shoulder muscles.
One of the great benefits form Nordic walking is improved stability and posture. The poles will give walkers more stability who might not have the best knees or legs. In terms of posture, using the poles correctly will encourage you to maintain good posture.
Nordic walking can be a great workout, because you can increase your heart rate while exerting less effort. What that means is that you can do a moderately intense workout while feeling like you are doing that "easy" workout. You can get into that fat burning zone much more quickly and more effectively as well. In general, you will get a better workout for the same amount of effort as you usually do while giving your body many benefits as well.