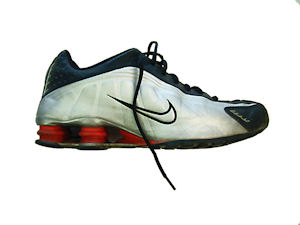 Every effective workout includes an aerobic factor. Increasing your heart rate is essential to the overall goals of achieving improved fitness and weight loss. There are all kinds of activities that can provide a cardio boost, but the one that most everyone can do 'most anywhere at 'most any time is walking. There is no special equipment required, and you can reap the aerobic benefits of ambulation in as little as fifteen minutes a day.
There. We just eliminated two common excuses. "I don't have the money for ______ (insert 'treadmill', 'gym membership', 'classes', etc.)" and "I don't have time to exercise." The fact is, there is no excuse for not improving your health. Walking does not require specialized training either. Most of us have been walking since toddlerhood. So, just put one foot in front of the other and start revving up your heart. Even just a leisurely stroll will do you good, but if you really want to put your heart in high gear, you need to power walk.
Power walking can be a pretty intensive workout, so it is recommended that you warm up by walking at a slow pace for a few minutes, build up to a faster stride for as long as you can maintain it, then slow down again to cool down. Putting a little power in your step causes you to breathe more deeply and your heart to beat a little faster to keep up with the increased oxygen intake and blood flow. It is very important to be consciously aware of your breathing while you walk. Inhale deeply and exhale slowly, making sure not to hyperventilate. Slower, more deliberate breathing will carry much-needed oxygen to your muscles and organs. Whether on a track, trail or treadmill, walking will provide the overall aerobic lift your heart needs, and power walking will boost the benefit even more.