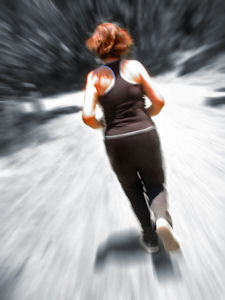 As students nationwide are getting settled into their new routines, college students have to make the conscious decision whether to incorporate exercise into their daily routine. For most, their ever-busy schedules force them to drop their daily exercise. But to stay healthy in college, exercise is a necessity, next to notebooks and planners. The easiest activity is running. Whether it is a galloping sprint, or a slog, running is the ultimate boredom and stress reliever. Here is the quick formula that I follow for my fast and easy college running routine.
Location, location, location. When it comes to running, I am a location snob. The result, however, is a beautiful background to all of my runs. Most cities have gorgeous parks or running trails. My favorite spot is the large park in my neighborhood. It has a running path that circles a mossy oak-lined bayou, and that leads to the Mississippi River. My run is always pleasant, as the path is paved and clearly divides runners and bikers. Pick a great, but close, location for your run, and it will be much more enjoyable.
Run, even when you do not want to. It is extremely easy to make up excuses not to go for your run. Of course, homework comes first, but you must make sure not to let friends or food get in the way of your exercise routine. Skip one day, and the routine falls apart. Believe me, this is easy to do, especially when your schedule becomes busier.
Routine. Incorporate your runs into your schedule. Find the time that works best for you, maybe three times a week to start, and then literally pencil it into your planner. This not only improves time management skills, it keeps an open block of time to dedicate to your run. After only a few weeks, you will have built up your strength and lung capacity to where you can take even longer runs, if time allows.
Music. Although it is imperative to stay aware of your surroundings, listening to your music while running is a must. Make a playlist of your favorite tunes for when you hit the trails. The playlist is very important, as the songs you choose can set your mood, speed, and even confidence level. High-energy songs are fine, but just be sure to find a group of songs that will sustain your energy, and keep you motivated and happy.
Stress Relief. If you're going through a breakup, run. If you're stressed about a test, but cannot study a single page more, run. If you're homesick, run. Running is one of the best stress relievers. It is possible to run your stresses away. Pretend your stresses are under your feet, and you are stomping on them as you run. Or it also works for me to think about a situation that makes you livid and stressed, and push your body to run faster. After the run, and a cold shower, you will again feel ready to take on the world