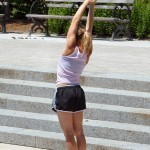 With the weather about to get warmer, it is a good time to start switching up our strength training a little and get outside to get some fresh air while we work out. Incorporating some quick and easy moves will motivate you again, and you will feel like you are playing more than working out. Here are some exercises that you can do outdoors, that you do not need any equipment to do. They will get you energized.
Pushups – Start by doing some pushups to build upper body strength. No equipment needed here! Pushups are very effective, and they will also help to firm your abs.
Lunges – Next, work on the lower body by doing lunges. Be sure to use perfect form to get the best results. Incorporate standing lunges, walking lunges, and rear lunges, to work your legs and your rear.
Squats – Squats are incredible for strength training because they work the whole body. Proper form is so important to get the full benefits, so don't slouch, and do them slow and low.
Setups – I know these are tough if you are not used to them, but they are amazing for working out your core. Keep your back straight, eyes to the sky, and breathe.
Run Steps – You need to get some cardio in your strength training workout, and running steps is a fast, effective way to accomplish that. Instead of walking or running on level ground, go to the local football field and run steps. It will depend upon your condition as to how many to run, but you should try for three runs up the steps and back down for a good workout.
Winter has us all feeling bored with our gym routines, and sometimes this can cause us to lose interest. Try a few of these workout exercises to get out of your rut and ready to workout with enthusiasm again.