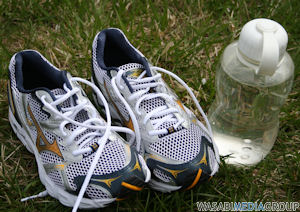 I am going into my senior year of college, and I decided I wanted to trim down a few pounds to look good for next year. I'm not a huge fan of running, but I know it works when you need it to and keep it up regularly.
I currently work at a very popular Mexican restaurant and am tempted daily with the food I am surrounded by. Since I work almost 40 hours I have struggled to get to the gym on a consistent basis. I figured the first step I could take to looking and feeling the way I want is by eating more healthfully. Yogurt, cheese sticks, nutri-grain bars and some fruit are what I've been eating for breakfast. Eating breakfast is extremely key because it gets your metabolism working for the day. This helps me because I primarily work in the morning, and we take our lunch break an hour before our store opens since we open a little late. Everyone eats the food in the store. Instead of getting a burrito bowl (you figure out where I work yet?), since I've already eaten breakfast I can get some chips and tomato salsa or get a small cheese quesadilla with a little bit of chicken on it. On top of that, drinking some water to wash it down helps ensure that I stay full.
I also decided to buy some healthy snacks to munch on in between meals. Cheese-its or some type of cracker will do. Some fruit cups or applesauce and even some fig newtons would be a good snack to have if you get a little hungry. Then for dinner salad or some sort of green is always best to have with your meal. Some chicken or a little bit of meat with some rice and some water is actually quite tasty if you add the right seasonings in moderation.
If you take everything that I've done in the past month plus WALK! You could lose 3 inches around your waist and get a little bit of toning like I did! I didn't realize it till I noticed how many inches I lost, but a nice brisk walk in the city isn't half bad. It is still working out and you're getting to where you need to go at the same time!