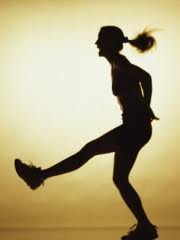 I have written before about my latest quest for great online workouts available for free. I am a new Mom looking to lose some pregnancy weight, but I can't find a gym that offers babysitting. I have been sampling a wide variety of material, some is great, some is mediocre, and some is just plain terrible.
The first place I looked was on Hulu. I don't have Hulu plus, just the regular account, and what came up was The Firm, by Gaia. I have a few DVDs from Gaia at home, so I thought I would give it a try as I have enjoyed the workouts.
Sadly, I found that this particular version of The Firm, as offered as a free sample on Hulu, is not worth your time. Here is why:
1) Maybe I did not read the fine print, but I thought the version available on Hulu was a free workout, a complete class. It wasn't. In fact, the video ends at a very strange point, without any cool down, and the people in the video continue on. I don't know if this is just a strange editorial thing, or if it is because we actually don't get the entire video for free, all I know is I finished with a very bad taste in my mouth. Why bother doing this exercise if it wasn't even complete?
2) I understand it is Hulu, and they have to use commercials to make money, but these commercials were horribly placed. They were often in the middle of a routine step so that you just are interrupted mid movement. After doing Fitness Blender, where the commercials are timed with the water breaks, this just seemed to be too much. Also there were about 4 commercial breaks in a 20 minute period, way too many.
3) The Firm, as far as I could judge in this brief clip, is very fast paced. It isn't so much that the workout itself is so demanding, but that the instructor goes very quickly from one move to the next with very little explanation. I found myself struggling to figure out what was going on, because they were already on to the next thing.
4) I am not much of a dancer, so dance workouts don't really appeal to me. At the end of the day, this class was not TOO difficult. It was a bit too fast for me to ever really feel I got the hang of it. The commercial breaks only further complicated things. If you like dance videos, this might be a fun thing for you, but skip the Hulu version. And I don't feel comfortable reviewing the actual class, because I don't feel like I took it.