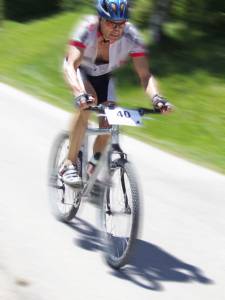 This is the first year in many that the Dutch stand a chance in the Tour de France. You would think that a land where there are more bikes than people, there would be an abundance of riders in the Tour de France, but this isn't so.  No one really knows why this is. Perhaps it is due to the lack of mountains.
They actually have a serious contender this year – 25-year-old Robert Gesink, Rabobank team captain, who was overall sixth in last year's race. Out of the 12 Dutch riders, 5 are on the Rabobank team. That would be great if he could place. The last time a Dutchman wore the yellow jersey was back in 1989; the last Dutch win of a single stage was in 2005, and the last overall winner was in 1980. Gesink suffered a crash last Wednesday, and his lower back injuries continue to hold him back from giving his best performance. At this point, Frank and Andy Schleck of Team Leopard-Trek, seem to be holding down the fort for the Dutch at spots 4 and 5 with Gesink at 15.
That would be a shame — seeing all of your training get "thrown" away due to a crash.
We can learn a lesson from Gesink – although cycling may not yield guaranteed victories, it can get us into great shape!
To train for the Tour de France takes years at first, but once you get going, you can keep your condition up high enough that the true training doesn't need to start until several months before the race; however, even if you are not planning on racing this 3,600+ kilometers race, you can still use the same training techniques that the Tour de France riders use to get into cycling shape.
First things first. Purchase a heart rate monitor. Workout levels aren't one size fits all; they are determined by your heart rate. For example, if your goal is to lose weight, you should know that body fat is burned more efficiently when you're exercising at 65-80% of your maximum heart rate.
Intervals and tempo workouts are going to be key. Peddling at one constant speed really isn't going to get you somewhere, and you probably won't get better. By doing short sprints or pushing your body to that 90% rate, you'll be training your body to do more and more.
If your goal is to get a great aerobic workout, pedalling at lower rpms in a high gear will give your heart and lungs a great workout. If you're going for Lance legs, then high rpms are going to be your workout.