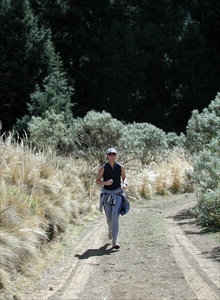 Many people use vacations as a time to relax from the routine from every day life.  They focus on eating and shopping, and fall out of their running routine, using the excuse, "I'm on vacation." However, even while on a vacation, falling out of your running cycle can be detrimental to your work-out routine, and it can set you back once you return.
To combat this, it is a great idea to run while on vacation, and it is surprisingly easy. Here are some tips to keep your running schedule on track, and have a bit of fun while doing so.
Making the time. This is by far the biggest obstacle that many runners face. Even while on a relaxing vacation to the beach, or a busy vacation to the city, it is important to schedule even an hour to take a run. Just skip an afternoon activity, or get up in the morning before everyone else, and take a lap around the neighborhood you are in.
Layovers. While faced with a long layover, use it to your advantage by taking a run around the long-term parking lot, or several laps around the nearest small parking lot. Many larger airports even have fitness centers with showers that make it easy for travelers to dedicate some time on their journey to exercising. The website airportgyms.com has a comprehensive list of all of the airports with fitness amenities.
Do not worry about distance. Many runners suggest not paying as much attention on vacation to the distance that you run. Simply getting out and taking a run far outweighs how long you actually run. Any run is better than no run.
Exploration. Running around a new city is a great way to explore. While running on foot in parks and down side streets, it is possible to discover interesting bars, restaurants, and off beat attractions. There is no better way to explore a city on foot, and while running you will see twice as much of the neighborhood or area you are vacationing in.
Research. If you are more of the planning type, do plenty of research into the area you are staying in, as well as parks and trails in the area. If you prefer to take out the element of surprise and get in a nice full run, there are many websites that make it easy to plot out a scenic run.
Road races. If you are feeling extra motivated, enter a race in the city you are traveling to. I have many friends who travel to cities simply to run in their races, so why not enter one just for fun if on vacation?
Although vacations are a time for relaxation and indulgence, it is still important to stick to your running schedule so you can be sure not to lose any of the progress you have made. Next time you are planning a vacation, don't forget to allot time for a relaxing, adventurous run.