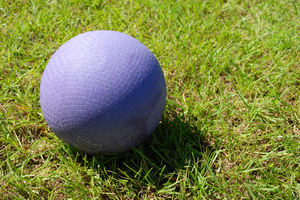 In fifth grade, I played in a kickball game at recess every day with my friend, Ashley. Like most kickball games, they were played very similar to baseball, on a grass field with three bases and a home plate. Instead of a baseball or softball, we used a large rubber ball and kicked it.
Despite out best efforts, Ashley and I kept the "girls can't play sports well" stereotype alive by sucking royally. Rarely did we ever catch a ball or make it past first base. But despite our lack of coordination, we always had fun, never noticing that we were exerting our hearts and muscles, and staying fit in the process.
In sixth grade, we transitioned to middle school and no longer was kick ball an option at lunch recess. I went through a grieving process after losing my daily kickball routine with Ashley. School was never as much fun again. Nor was exercise.
As an adult, I still yearn for the same kind of joy in a workout. Recently, I was pleasantly surpirsed to discover that adult kickball is an exercise option for me, as adult kickball leagues are actually already in existence all over the country. One of the most widely established kickball organizations is the World Adult Kickball Association, also known as WAKA.
WAKA is a co-ed club founded in 1998 in Washington, DC. The organization is open to any adult 21 years or older, who has adequate health insurance coverage. Each WAKA area has a league consisting of 4-16 teams. These teams play around 8 games per season, usually in the fall, followed by playoffs.
In addition to just playing kickball, WAKA offers social opportunities for members, including parties, camping trips, pub crawls, and opportunities to travel to Las Vegas for kickball championships each year.
Anyone who is internested in playing with WAKA can simply search for a local league at their website, kickball.com,  register online, and then join or form a team.