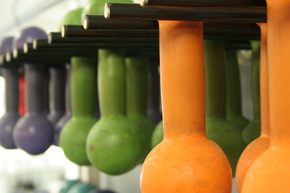 It's a new year, and we have all made resolutions. Many of us have resolved to lose weight and get in shape, and we are determined to stick with it and get results this time around. The trick to sticking with any new routine is to start off the right way, and to see fast results. Strength training is beneficial for all ages, and it is a quick workout giving you the results you need to keep going. Here are some tips that you can incorporate into your strength routine.
Keep it Simple – When you first start out, use light weights, and keep your movements slow. Your body has not yet been conditioned to these moves, and you don't want to risk injury or get so sore that you give up. Only lift what is comfortable, and most importantly, pay attention to your body. If something feels strained or you feel pain – stop!
Keep a Journal – Writing down what you do while working out will help you log your progress. Write down how many repetitions you do along with what weights you use. This is especially important when you increase the weight amount you are using. You will be motivated by seeing your results in black and white, and it will give you something to go by to fine tune your workouts.
Adjust Your Diet –The fastest way to get results is to adjust your diet. Remember what goes into your body is what fuels your workout. Make the changes the same day you start your workout, and log your meals into your journal, too. If you are unsure as to what changes you need to make, have a discussion with your doctor or a nutritionist.
Prevent Injuries – Aside from not overdoing it, and paying attention to what your body is telling you, be sure that you are performing the movements correctly. Pay attention to your posture, use a full range of motion, keep your wrists straight, and keep your grip firm. This is why it is suggested to go very slow when you first start, so you are sure to get off on the right foot with your strength training and avoid injury.