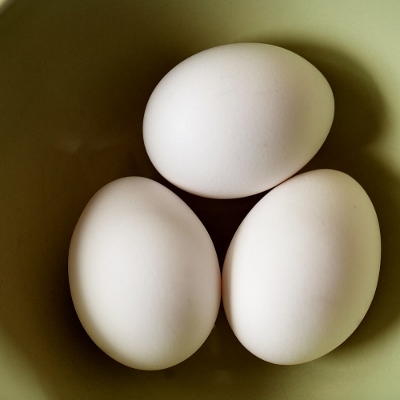 While focusing on increasing your fitness levels or reshaping your body, you need to regularly eat high quality foods that offer a nice balance of nutrients. One of the most important nutrients in muscle building and toning is protein. The inclusion of at least one protein rich food in your meals and snacks each day will make sure your energy levels stay high and muscles continue to grow. Here are five foods that provide this protein blast without making you feel weighed down.
Eggs
Eggs provide about 13 grams of protein for every 100 grams. You can eat both the white and yolk without shame due to the changed understanding of how dietary cholesterol affects bodily numbers. In short, it doesn't. You can prepare eggs in a variety of ways from simply fried in a dab of coconut or olive oil to hardboiled in a pot of water. You can also poach and scramble eggs with ease. In addition to being quite good for you, eggs are also relatively low on calories, yet quite filling.
Edamame
Edamame are immature soybeans still sitting in their little green pod. These crunchy snacks are great raw from the fridge, dried covered in seasonings or cooked after being frozen. For each 100 gram serving of edamame, you receive 11 grams of protein. That serving is only 122 calories and packs a powerful punch of potassium and magnesium. Pair your edamame with hummus for a filling snack that's easy to take on the go.
Canned Fish
Although tuna is the most popular variety, you can also find salmon, crab, shrimp and sardines in a can. The canned fish and shellfish do not require any extra preparation. You can simply eat them straight out of the can. Of course, it's possible to dress them up by tossing a bit on a salad or mixing with dressing or mayo. Each 100 grams serving of canned fish provides at least 30 grams of protein.
Pepperoni
With more than 23 grams of protein per 100 grams, pepperoni is another delicious, satisfying, yet reasonably healthy, treat. You can take pepperoni sticks or slices on the road for planned snacks before or after working out. The salty, spicy flavor combination of pepperoni often staves off cravings for other foods that might not be as nutritious. If you're worried about fat content, you can actually find pepperoni made with a higher concentration of lean meat to keep calories down.
Quinoa
Hearty, delicious quinoa came into popularity and never left the stage. The big pull of quinoa is its nice mix of nutrients and flavor. This grain provides 14 grams of protein for each 100 gram serving. Beyond that, this simple ingredient offers a nice balance of calcium, iron, magnesium and potassium. You can serve this grain as a side dish with meats and vegetables or just eat it on its own with a little bit of butter or sauce.