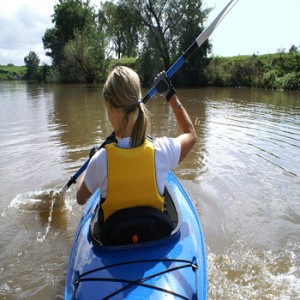 It is hot out there, and getting out to run my daily 5-7 K has been becoming more and more of a challenge. Not because of the distance, but because I end up sweating and exhausted way too quickly in the sun. And the hour of the morning I need to get up to successfully complete my run before the heat gets too extreme, is getting too early to be reasonable.
So the question remains – how to maintain and continue to build cardio in the heat, while running is not such a hot possibility.
1) The treadmill – I know many people consider this 'not running,' but I consider it 'better than not running.' As in, if I cannot go running, why not hit the treadmill, it is better than nothing. And that is the truth. Although running on a treadmill can be frustrating, there is also air-conditioning. This means you are probably going to push yourself more on these runs and get a bit more out of them than your middle of the summer heat runs.
2) The pool – If the treadmill doesn't suit your fancy, you can always hit the pool. Try to do a decent number of laps at a good pace of crawl stroke, or what ever you can manage. If that isn't your style, you can always tread water or 'run' with a noodle for a good chunk of time. This can be a good relief for your leg muscles and help maintain your stamina.
3) The mall – The what? OK, so you may not be able to get in a good run, but a lot of people swear by a good old mall walk – a power walk from one end of the mall to another, and back. If you need a bit of relief for your workout, this might be the answer. It can also be a way for you to join in family shopping activities, but still be able to do something you enjoy. Just tell your family you will meet them in about an hour, after you have gotten your walk out of the way.
4) Kayaking or canoeing – These activities may still be a little warm, but you can dive into the water as frequently as you would like to cool off. Kayaking or canoeing (rowing of any style) can be a good way to get in some cardio in the heat and help you build your upper body strength as well.